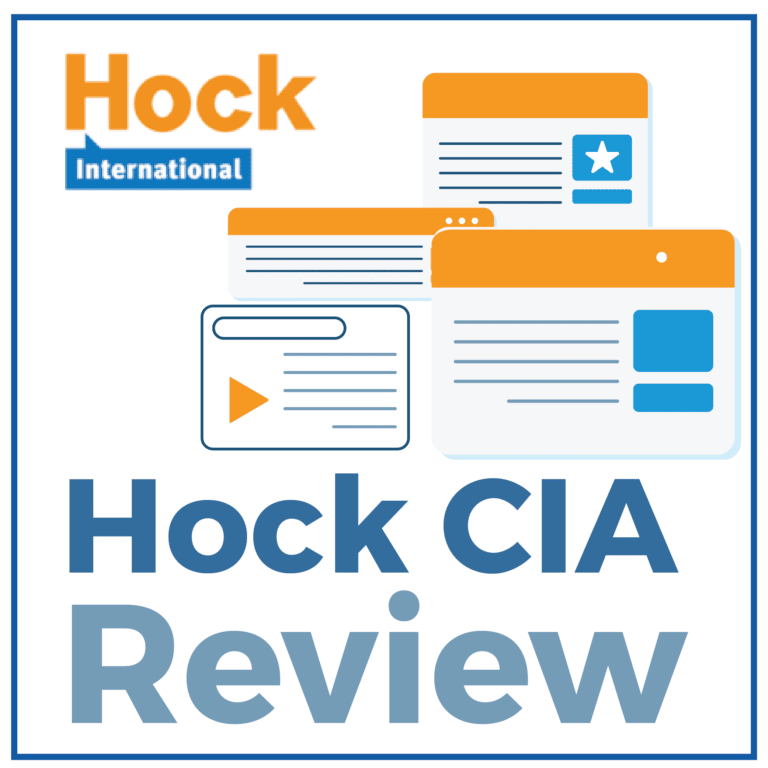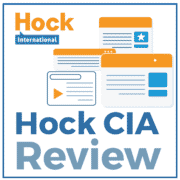 Course Rating: ★★★★★
Hock International CIA Review offers several course options for students who are preparing for the CIA exam. Their textbooks cover the basics in straightforward language, making this course good for those who need a thorough review from the ground up.
You can purchase only the textbooks, study questions, or videos, or combine them into a package deal, depending on your needs. This course is not really a budget option because you can get a lot more material for only slightly more money if you decide to go with one of HOCK's competitors instead.
PROS
1. Free Samples of Study Materials and Quizzes
HOCK CIA Review offers free downloadable samples of the textbooks, flash cards, the ExamSuccess multiple-choice questions, and videos so you can check out the course before you purchase it. Explore the course without registering for or creating an account to see if it meets your needs and matches your learning style.
[uam_ad id="5132″]
Ideal User
HOCK's study materials are somewhat cheaper than other CIA prep options, and their international availability and free world-wide shipping will appeal to a large number of students living abroad. Students whose first language is Russian or Arabic will benefit from the course materials that are available in these languages.
Students who want the flexibility of buying only one part of the course (questions, videos, or textbooks) and are committed to studying on their own for however long they need will appreciate HOCK's free updates and no expiration date.
My Suggestion
Although Hock CIA review is an affordable option, there are better programs out there for only slightly more money. The quality of material does not really compare to other courses like Gleim or Fast Forward Academy. Students who need an introductory review of the basics in clear language might benefit from starting with HOCK before moving onto a larger question bank with more practice materials, however I would highly suggest just avoiding this course altogether and purchasing a better one from their competitors.
COMPARE THE BEST CIA REVIEW COURSES!
Summary of Course Features
Textbooks (downloadable PDF files or hard copy)
Personalized Study Plan
ExamSuccess Software (Multiple-Choice Practice Questions)
Flashcards
Mock Exam
Videos or Audio mp3 Files
Free world-wide shipping
Materials also available in Russian and Arabic
Pricing
HOCK Complete
Price for all 3 parts: $649
1 part only: $249 each
Includes:  Textbooks, ExamSuccess Multiple-Choice Practice Questions, Electronic Flashcards, 1 Mock Exam, Videos, and free shipping worldwide.
HOCK Books and Questions
Price for all 3 parts: $399
1 part only: $149 each
Includes:  PDF files of books (additional charge for hard copies), Multiple-Choice Practice Questions, Flashcards, and Mock Exam.
HOCK Books Only
Price for all 3 parts: $249
1 part only: $99
Includes: PDF files of books (additional charge for hard copies).
HOCK Videos
Price for all 3 parts: $199
1 part only: $99
Includes: 13 hours of videos for Part 1 and 11 hours for Part 2 that are similar to a live course; these are also available as audio mp3 files. Videos for Part 3 are due to be released in fall 2015. Videos can be watched on computers, tablets and smartphones.
HOCK Questions Only
Price for all 3 parts: $249
1 part only: $99
Includes:
ExamSuccess Multiple-choice questions, Mock Exam, and Electronic Flashcards. As of July 2015, the number of questions included in Part 1 is 699, Part 2 includes 645 questions, and for Part 3 includes 1,547 questions.