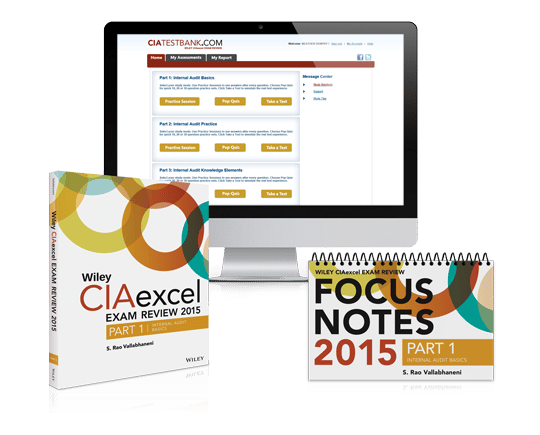 Course Rating: ★★★★★
Wiley has been in the test prep business for more than 40 years. They're known for creating review courses for several different accounting exams. Wiley CIAexcel, also known as Wiley CIA Review, provides a variety of resources that are good– but not great.
Some of the more popular course features include their huge test bank comprised of over 5,000 practice questions, mobile apps, comprehensive textbooks, and Focus Notes.
How do you rate Wiley CIA Review?
PROS
1. Test Bank
Taking practice tests is a crucial part of preparing for the CIA exam. The Wiley CIA Test Bank
gives students that opportunity. The Test Bank for all three parts of the exam includes more than 5,000 questions and answers. It also includes the option of creating unlimited, customized practice tests, and performance analytics to track your progress and performance. The software simulates the actual Pearson VUE test experience to help prepare students for what to expect on the day of their exam.
2. Textbooks
Wiley's CIA textbooks are updated annually. The complete course includes a set of 3 textbooks, one for each part of the CIA exam. The three books work together to help reinforce topics and help you master the concepts and principles, however, they can be purchased individually or as a set. Each book is filled with diagrams, tables, charts and memory devices to help you remember the material. You also have access to multiple choice questions and their solutions.
3. Focus Notes
This supplemental reference set outlines the most important study material covered on the exam in condensed form. Wiley Focus Notes
come in a spiral bound flip guide and focus on key concepts to help you make the most of your study time. You'll complete drills on financial calculations, spreadsheet and research skills.
Each section teaches you new strategies for how to prepare for your exam quickly and efficiently and provides additional reference material for your weaker areas.
CONS
1. Mobile Apps
Nothing beats a mobile app for studying on the go. Wiley has created apps for both the iOS and Android devices with the intention of providing convenient study resources. However, students who have tried to use these apps tell a different story. Expect issues connecting to your desktop study materials and limited access to their entire library.
2. No Live Options or Video Lectures
Wiley CIA Exam Review is strictly an online course without any live or video components. Students will have to cover the material in the textbooks and complete the practice questions on their own and rely on the answers that are provided to clarify any problems or questions they might have.
3. Written Materials
Although Wiley makes an effort to keep their textbooks up-to-date, they're still very difficult to get through. Many students have remarked that the overly dry and technical material contained in these books made it difficult to stay motivated and retain the info. If you prefer to learn with the aid of a well-made textbook, look elsewhere.
My Suggestion
Wiley CIA will benefit online students who learn best by practicing many questions and plan their approach to passing the exam according to their own study schedule. The included textbooks and Focus Notes are a welcome addition for more traditional learners who want to work their way through a text.
Having access to mobile apps would be valuable for candidates with long commutes or who like to multitask. Unfortunately, this is the worst part of their study package by far, so you'll want to steer clear if this is a priority to you.
VIEW OUR TOP RATED CIA REVIEW COURSE
---
Summary of Course Features
Exam guides (3 volumes)
Focus Notes (flipbooks with most essential material)
Online Test Bank with 5,300+ practice questions
Practice Exams created through Test Bank
Course Analytics
Mobile app for iPhone and iPad
Pricing
Wiley CIAexcel Exam Review 2015: Complete Study Pack (Includes Parts 1, 2 and 3)
Price: $675
Includes: Complete Wiley CIA exam guides (3 volumes), Focus Notes for all three parts, 1-year access to the Online Test Bank, including 5,300+ practice questions.
Wiley CIAexcel Pack Parts (Internal Audit Basics Pack; Internal Audit Practice Pack; or Knowledge Elements Pack)
Price: $225 for each Part
Includes: 1-Year Test Bank subscription to associated exam Part, Focus Notes associated with exam Part, and Review Guide associated with Exam Part.
Wiley CIA Exam Focus Notes
Price: $40 for each Part (1, 2 and 3)
Includes: Spiral-bound Focus Notes guides for 2015. These study aids distill key information to enhance retention of the material.
Wiley CIA Exam Focus Notes App
Price: Free-$89.99, depends on in-app purchases
Includes: Free Install with 30 Notes. Additional study materials can by added through in-app purchases at $34.99 per part or $89.99 for all three parts.
Wiley CIA Exam Test Bank Only
Price: $215 for 1 year/$75 for 4 months per Part
Includes:
Over 5,000 questions and answers, unlimited practice sessions and tests, create practice sets from 30+ exam sub-topics, and analytics that track strengths and weaknesses.
COMPARE THE TOP CIA REVIEW COURSES
Get Discounts on CIA Exam Review Courses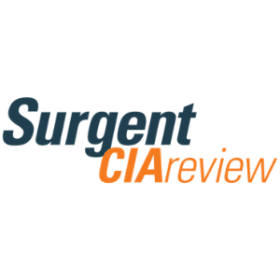 Surgent CIA Discount Save $100
35 uses today
Last Used: 3 seconds ago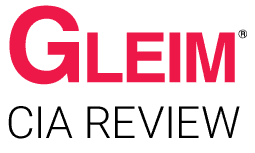 Save $48 Off Gleim CIA Review Course
40 uses today
Last Used: 30 seconds ago
---
Wiley CIA Breakdown
| | |
| --- | --- |
| Strengths | Weaknesses |
| 1.Test Bank With 5,000 Questions | 1. Mobile App |
| 2.Free Trial | 2. Limited Access Period |
| 3.Focus Notes | 3. Poorly Designed Textbook |