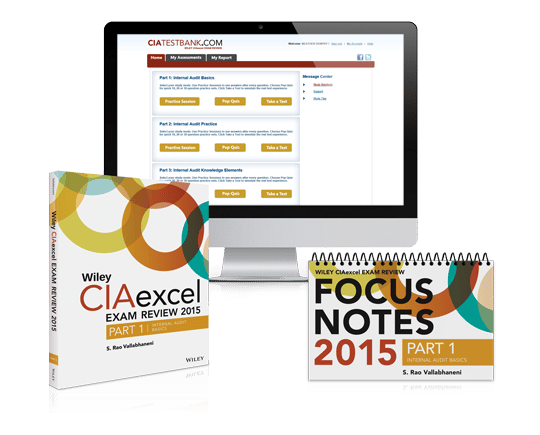 Course Rating: ★★★★★
Wiley has been in the test prep business for more than 40 years and is known for creating high-quality review courses for several different accounting exams. Wiley CIAexcel, also known as Wiley CIA Review, lives up to these standards and provides a variety of resources to help candidates study for and pass the CIA exam.
Some of the more popular course features include their huge test bank comprised of over 5,000 practice questions, mobile apps, comprehensive textbooks, and Focus Notes.
How do you rate Wiley CIA Review?
PROS
Taking practice tests is a crucial part of preparing for the CIA exam. The Wiley CIA Test Bank
 gives students that opportunity. The Test Bank for all three parts of the exam includes more than 5,000 questions and answers, the option of creating unlimited, customized practice tests, and performance analytics to track your progress and performance. The software simulates the actual Pearson VUE test experience to help prepare students for what to expect on the day of their exam.
Nothing beats a mobile app for studying on the go. Wiley has created apps for both the iPhone and iPad. You can create note cards with bullet points of key concepts, bookmark specific terms or sections, search by keywords, and create your own notes for all three parts of the CIA exam.
Wiley's CIA textbooks are updated annually. The complete course includes a set of 3 textbooks, one for each part of the CIA exam. The three books work together to help reinforce topics and help you master the concepts and principles, however, they can be purchased individually or as a set. Each book is filled with diagrams, tables, charts and memory devices to help you remember the material. You also have access to multiple choice questions and their solutions.
The first textbook covers Part 1, Internal Audit Basics; textbook 2 covers Part 2 and focuses on Internal Audit Practice; and the third textbook goes over the Internal Audit Knowledge Elements covered in Part 3 of the exam.
This supplemental reference set outlines the most important study material covered on the exam in condensed form. Wiley Focus Notes
 come in a spiral bound flip guide and focus on key concepts to help you make the most of your study time. You'll complete drills on financial calculations, spreadsheet and research skills.
Each section teaches you new strategies for how to prepare for your exam quickly and efficiently and provides additional reference material for your weaker areas.
5. Free Trial of Test Bank
You can sign up to get 24 hours of free, unlimited access to the Test Bank. Although you won't be able to access the course textbook materials or other resources, you will be able to decide whether to purchase the Test Bank separately or as a part of your course.
6. Financing Options
Wiley partners with PayPal Credit to offer their customers affordable payment plans.
CONS
Wiley's CIA Exam Focus Notes are only available for Apple iOS devices. However, Wiley has developed Android apps for its CPA exam prep courses, so maybe Android users will be able to benefit from this feature in the future.
2. No Live Options or Video Lectures
Wiley CIA Exam Review is strictly an online course without any live or video components. Students will have to cover the material in the textbooks and complete the practice questions on their own and rely on the answers that are provided to clarify any problems or questions they might have.
Wiley CIA will benefit online students who learn best by practicing many questions and plan their approach to passing the exam according to their own study schedule. Wiley is well-known for high-quality questions that are similar to those on the exam and can be filtered for practice sessions involving the Test Bank. The included textbooks and Focus Notes are a welcome addition for more traditional learners who want to work their way through a text.
Having access to mobile apps gives students the opportunity to study anytime, anywhere at their convenience. This is valuable for candidates with long commutes on the subway or train. The CIA online Test Bank is the core of the program and will help students become adept at answering questions online, just as they will on the actual exam.
Summary of Course Features
Exam guides (3 volumes)
Focus Notes (flipbooks with most essential material)
Online Test Bank with 5,300+ practice questions
Practice Exams created through Test Bank
Course Analytics
Mobile app for iPhone and iPad
Pricing
Wiley CIAexcel Exam Review 2015: Complete Study Pack (Includes Parts 1, 2 and 3)
Price: $675
Includes: Complete Wiley CIA exam guides (3 volumes), Focus Notes for all three parts, 1-year access to the Online Test Bank, including 5,300+ practice questions.
Wiley CIAexcel Pack Parts (Internal Audit Basics Pack; Internal Audit Practice Pack; or Knowledge Elements Pack)
Price: $225 for each Part
Includes: 1-Year Test Bank subscription to associated exam Part, Focus Notes associated with exam Part, and Review Guide associated with Exam Part.
Wiley CIA Exam Focus Notes
Price: $40 for each Part (1, 2 and 3)
Includes: Spiral-bound Focus Notes guides for 2015. These study aids distill key information to enhance retention of the material.
Wiley CIA Exam Focus Notes App
Price: Free-$89.99, depends on in-app purchases
Includes: Free Install with 30 Notes. Additional study materials can by added through in-app purchases at $34.99 per part or $89.99 for all three parts.
Wiley CIA Exam Test Bank Only
Price: $215 for 1 year/$75 for 4 months per Part
Includes:
Over 5,000 questions and answers, unlimited practice sessions and tests, create practice sets from 30+ exam sub-topics, and analytics that track strengths and weaknesses.
Wiley CIA Breakdown
| | |
| --- | --- |
| Wiley CIA Review | Strengths  |
| 1. | Test Bank With 5,000 Questions |
| 2. | Mobile App |
| 3. | Up-To-Date Textbooks |
| 4. | Focus Notes |
| 5. | Free Trial of Test Bank |
Best Wiley Coupon Codes & Discounts
Summary
Reviewer
Review Date
Reviewed Item
Author Rating