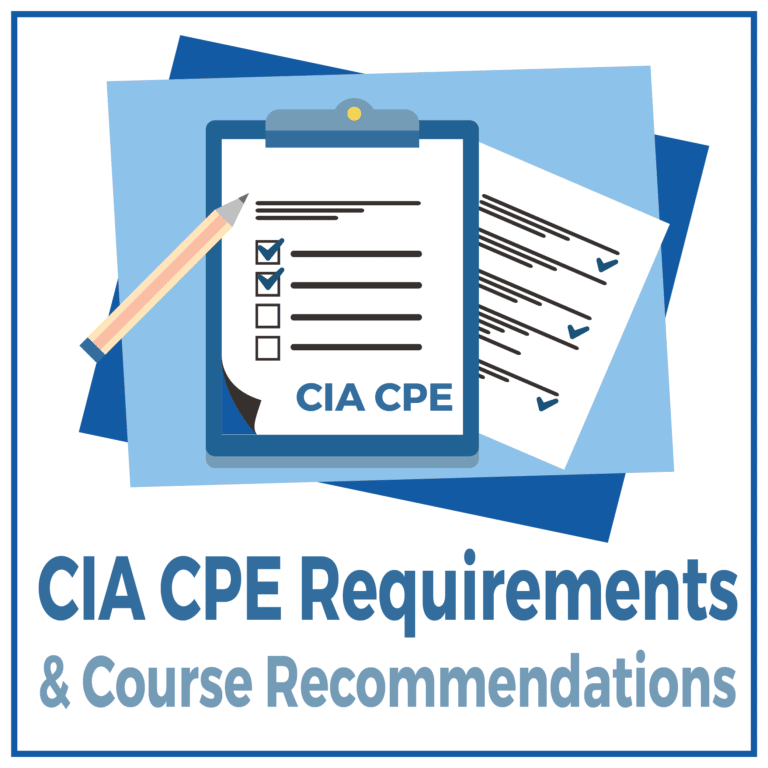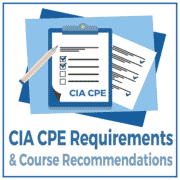 You've worked hard to become a Certified Internal Auditor, but don't put your study books away just yet. To maintain your CIA designation, you are required to fulfill certain CIA CPE requirements (Continuing Professional Education).
There are two reasons why you must complete CIA CPE to stay in good standing with the Institute of Internal Auditors (IIA):
Maintenance of your knowledge and skills
Updating your knowledge and skills to reflect any improvements and developments that have been made to the internal auditing standards, procedures, and techniques
CPE REPORTING REQUIREMENTS
If you are already a CIA, it is your responsibility to certify that your CPE hours are complete and that they adhere to the IIA established guidelines. You can do this by submitting a form on an annual basis that serves as proof that your Continuing Education requirements have been met.
The annual submission of your CPE requirements is due by December 31st of each year and can be done on the IIA's Certification Candidate Management System (CCMS).
Once you submit your completed CPE form, the IIA will send you a letter of acknowledgement that they have received, reviewed and viewed your CPE as being in accordance with their standards. This process allows them to keep track of active and inactive CIAs.
Making sure you know how to properly report your CIA continuing education will make maintaining your designation easier. To do so, make sure your report includes the following information:
Title of CPE courses and/or the description of content covered
All dates you attended
List the location of your course or program
If there was a sponsoring organization, include their name
Contact hours of credit as recommended by your course sponsor
Include verification of completion via certificate, letter or other written attestation
Document any supporting publications, presentations, or participation you may have had
Each CIA who submits a report should keep all of this documentation on file for a minimum of 3 years. This will cover you in the event that the IIA (or its designee) requests this information.
There are 5 different reporting categories for CIA continuing education. Here are their descriptions and requirements:
A CIA who is currently performing auditing functions is required to complete 40 hours of CPE each year.
A CIA who is not currently practicing may change their certification status on their CCMS profile, but is still required to complete 20 hours of CPE each year.
Maintaining 20 hours of CIA CPE allows CIAs to maintain their designation, but they are not able to practice internal auditing functions.
CIAs who are not performing internal auditing functions because of retirement must change their status in the CCMS. They are not required to complete any CPE, but they are also not allowed to perform any internal auditing functions.
4. Inactive (Grace Period) Status
CIAs who fail to meet the IIA's CPE requirements will automatically be placed in inactive status and may not use their CIA designation. This remains the case until they have submitted the previous year's CPE report. Any wrongful use of their designation will be reported to the IIA for disciplinary action.
5. Reinstatement to Active Status
CIAs who have been inactive for longer than 12 months are required to report CPE hours at the status level that applies to their situation. They will also be required to pay a reinstatement fee when they complete their reporting.
ACCEPTABLE CPE COURSES
The following criteria are used to determine whether potential CPE courses are acceptable for CIA's:
The course must be a formal program of learning that contributes directly to the professional competence of a CIA. Acceptable programs should:
Contribute to professional competence.
Specify the level of knowledge or competence that the participants should be able to display upon completion of the program.
State education or experience pre-requisites, if applicable.
Be developed by qualified individuals.
Provide content that is up to date.
Be professional.
BEST CPE COURSES FOR CIAS
Illumeo is an online platform for continuing education that we highly recommend for CIA's interested in CPE credits. It features a large catalog of courses and webinars covering intricate aspects of internal auditing, as well as other finance and accounting based disciplines. For more information on this platform, take a look at our review below.
READ OUR ILLUMEO CPE REVIEW!
GO TO ILLUMEO CPE REVIEW!
The most widely used CIA CPE courses are offered by Gleim CIA Review. They offers a variety of different classes that will fulfill all of the necessary requirements. According to our research, this company has a wider selection of courses than any other company in the CIA exam industry.
AWARDED CPE HOUR CATEGORIES
When you are first given your CIA designation, you will be awarded CPE hours. In the year you first earn your designation, you will receive 40 hours of CPE and an additional 40 hours for the next year. These 80 hours are based on earning your designation, not on NASBA sponsorship.
In the following years, you can be awarded CPE hours in several different categories, but each is capped at a certain number of hours:
Category
Maximum Hours Awarded
Education
40
Publications
25
Translations
10
Oral Presentations
25
Participation
15
External Quality Assessments
20
Make sure you stay up to date on your studies and record your CPE appropriately to avoid any problems with maintaining your CIA designation.
Bryce Welker often contributes to Forbes, Inc.com, and AccountingToday.com as well as speaks frequently. He does this to assist others advance their careers. Bryce is the creator of more than 20 test preparation websites that aid individuals in passing certification tests.