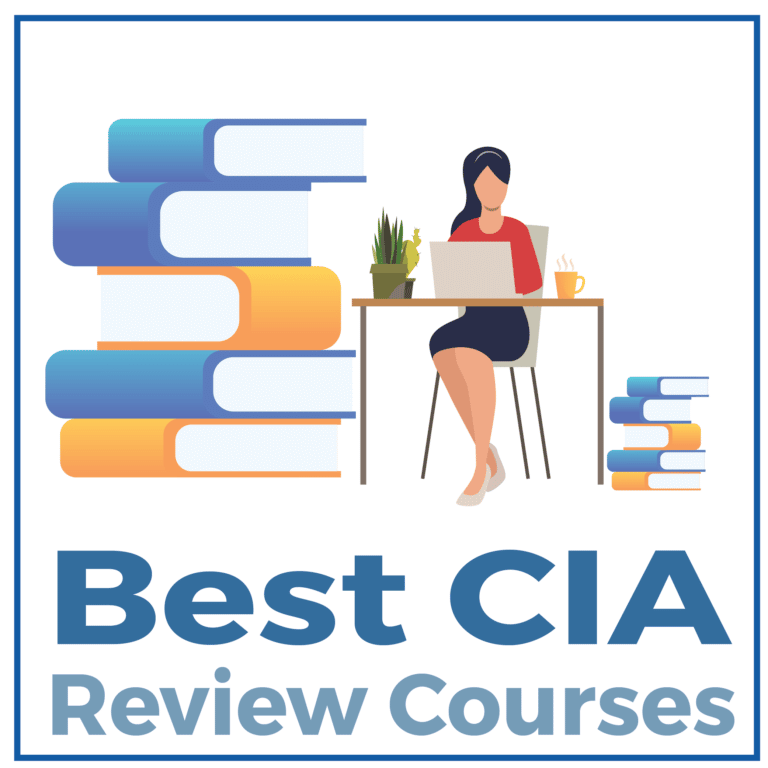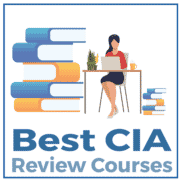 The future is uncertain and difficult to predict— especially when it comes to the job market. However, experts like Robert Half1 and the Bureau of Labor Statistics2 predict that the future job market for internal auditors is promising.
But if becoming a Certified Internal Auditor is in your future, the best thing you can do to ensure your success is find a solid CIA Review Course.
With the countless CIA course options out there, it's hard to identify which CIA study materials will best help you in preparing for the exam.
Here's how you can make an informed decision without wasting any time:
Use my comparison chart and individual CIA review breakdowns to significantly cut your study time and pass faster!
---


---
The Top 5 Best Certified Internal Auditor (CIA) Exam Review Courses & Study Materials of June 2021 :
---
How do you rate Surgent CIA Review ?
---
Surgent CIA Review (Rank: #1)


OVERALL RATING: ★★★★★

A.S.A.P. Technology:
Surgent uses their best in class technology to effectively craft customized practice tests for each student. If you've ever felt fatigued or frustrated by other courses' one-size-fits-all approach, this is the course for you!

Study Planner:
This tool integrated into your dashboard helps you determine exactly how much time you'll need to spend preparing to ace the CIA Exam. It's surprisingly in-depth and can be a great way of ensuring students stay on track and don't lose their motivation to study.

Your Daily Surge:

This helpful feature provides daily updates to your study plan. In conjunction with its other features, Surgent manages to provide students with a clear vision of their short-term and long-term goals.

No Audio or Video Lectures:
Unfortunately, Surgent includes no audio or video lectures in their CIA prep program. Although these can be replaced with free online videos, the quality and content of these resources pale in comparison to other prep courses that do include them.
Surgent Frequently Asked Questions
Q: How many practice questions does Surgent offer?
A: There are roughly 2,000+ practice questions in Surgent's CIA review program.
Q: Does Surgent offer a guarantee?
A: Yes! Students who take their course and fail to pass their CIA exam will get their money back.
Bottom Line: Surgent created a CIA prep course that is designed to be a natural part of a student's lifestyle. From the start, their A.S.A.P. technology allows students to study from material that's tailor-made for them. The daily updates ensure that they never have a day with nothing to do.

In addition to the regular updates, a detailed study planner helps to guide each day of education so no time is wasted. This makes Surgent an excellent study companion but it would still be nice for them to include any kind of video or audio content to appease auditory or visual learners.
Surgent CIA Review Discounts & Promo Codes
---
Gleim CIA Review (Rank: #2)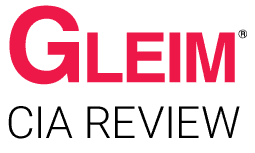 OVERALL RATING: ★★★★★

Course Includes Personal Counselor:

If you enroll in Gleim's prep courses, you won't need to pay for a tutor because each student is assigned their very own counselor! While not a complete replacement for a live classroom environment, this guarantees that all students can have their problems heard and their questions answered.

Large Question Bank:

If you're looking to maximize your chances of getting a high exam score, more practice questions is extremely important. To accommodate this need, students can use Gleim's large test bank to create custom practice tests, making their study sessions more effective.

Available in Spanish:
Gleim's review course is now also available in Spanish, with practice questions are now bilingual, which comes as a tremendous benefit to students who would otherwise be extremely limited in terms of viable educational material.

Final Exam Review:

The Exam Rehearsal mode offers students the opportunity to prepare with a computerized test that is virtually identical to the actual CIA exam. Thanks to this realistic simulation, much of the anxiety students experience before taking their exams can be effectively eliminated.
Gleim Frequently Asked Questions
Q: How many practice questions does Gleim provide?
A: Gleim offers CIA prep students a pool of over 3,000 practice questions to create their own practice tests.
Q: Does Gleim offer a guarantee?
A: Although they don't offer a money-back guarantee, Gleim has an Access Until You Pass Guarantee for their Premium review course.
Bottom Line: Gleim knocks it out of the park with their CIA prep course. The assistance and insight that can be gained through the assistance of their personal counselors cannot be overstated. Their Final Review is also instrumental in guaranteeing students' success since it can accurately prepare them for the real thing.

Aside from this, Gleim ensures that students will have no shortage of study material with their huge pool of practice questions. Even students who don't speak English as their first language can benefit from all of these features since all course material is also available in Spanish. For these reasons, it's a no-brainer that Gleim would get our pick for the best CIA review course money can buy!
Gleim CIA Review Discounts & Promo Codes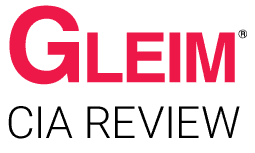 Save $48 Off Gleim CIA Review Course
35 uses today
Expires in 6 days
Last Used: 14 minutes ago
---
Ed2Go CIA Review (Rank: #3)


OVERALL RATING: ★★★★★

Certificate of Completion:

For most students, the only thing they really want out of a CIA review course is the ability to earn a passing grade on their exam. However, Ed2Go takes it a step further by rewarding you with a certificate of completion from an accredited university.

Excellent Support:

Nowadays, trying to resolve an issue over the phone can be frustrating due to automated menus and long hold times. Fortunately, this course's support line has neither of these issues— you can expect a fast response from a real person if you need to call for any reason.

Take Your Time:
How long do you need to study for the CIA exam? If you think you're going to need more than a year to prepare, Ed2Go is a fantastic choice due to their generous course access period. In fact, you don't have to complete everything for a year and a half!

Guarantee:

With so many excellent resources and features, you're highly likely to pass your CIA exam on the first try after studying with Ed2Go. However, they don't guarantee that this is the case, so you won't receive any refund or extension if you aren't able to pass.
Bottom Line: Ed2Go is terrific if you're looking for a university-level education without having to leave your house. They have a helpful and quick support team and tons of resources to get you where you need to be as a professional internal auditor!
---
Powers Resources CIA Review (Rank: #4)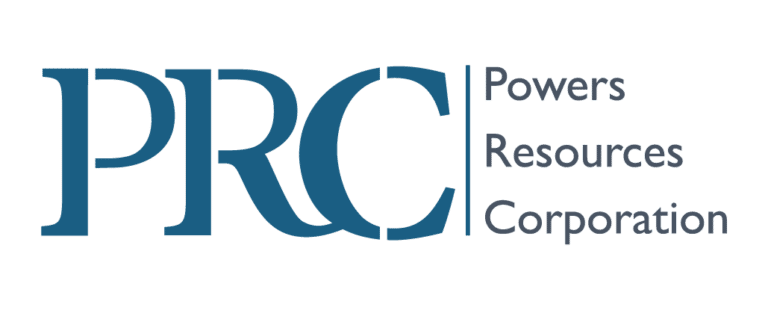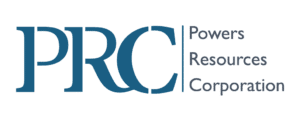 OVERALL RATING: ★★★★★

Practice Questions:
PRC provides you with more than 3,700 multiple choice practice questions AND explanations to why each answer is either correct or incorrect. You will be able to write notes and compile new test sessions with your marked, incorrect, or unattempted questions.

Flashcards:
Instead of having to pay extra for flashcards, PRC includes over 2,800 e-flashcards. You will be able to organize them by high, medium, and/or low priority. And, there's space for you to keep notes!

Mock Exams: At the end of every CIA Part, you will have two mock exams where you can practice all you've learned in a way that mimics the real CIA exam. This is essential when you are conducting your final review and want to practice your understanding in a real CIA exam layout and functionality.


No Video Lectures: PRC does not have any video lectures. You must read the textbook in order to review the material, which is not ideal for visual learners.

Bottom Line: Powers Resources is a fantastic companion program to an aspiring CIA student's study program. With thousands of practice questions and flashcards, you may not even miss the absent video lectures.

---
Lambers CIA Review (Rank: #5)

OVERALL RATING: ★★★★★

DVD Lectures:

Lambers CIA review is one of the only courses that includes training videos for all 3 parts of the exam, available as a downloadable DVD series. While many students may disregard this as obsolete technology, it makes for a great offline study resource for special circumstances.

Audio Review:

Lambers caters to audio-visual learners by offering an audio course in addition to DVD lectures, practice questions, and practice tests. The inclusion of these materials makes it significantly easier to study while performing other tasks, such as chores around the house or exercising at a gym.

Price:

This is an extremely expensive course. You will pay $1,800 for just the DVDs and the Test Prep Software, which is frankly beyond the pale for many young students. It isn't that difficult to find courses with lower prices that offer more advanced features that take advantage of cutting-edge technology.

Outdated Technology and Site:
Information on the Lambers website is outdated and the course dashboard has obviously not been redesigned in many years. This is most likely to be the biggest deal breaker for most prospective students, especially when considering how expensive this course is as well.
Lambers Frequently Asked Questions
Q: Does Lambers offer a guarantee?
A: Yes! Lambers offers a No Pass, No Pay Guarantee on all their CIA review materials.
Q: Does Lambers offer CIA tutoring?
A: For an extra fee, students can purchase an "Ask The Expert" package with one-on-one instruction.
Bottom Line: Auditory and visual learners will appreciate the video and audio content provided by Lambers CIA review. And those few individuals who still use physical media such as DVD will appreciate the included training discs. However, this heavy reliance on outdated course technology can turn off a lot of prospective students.

Something else that might scare off potential students is Lambers' price. When considering just how outdated some of these learning materials are, it's going to be difficult to justify the higher than average cost. However, there is still a lot of merit to this program and it makes for a useful resource to aspiring CIAs.

LEARN MORE ABOUT LAMBERS CIA REVIEW
---
IIA CIA Learning System (Rank: #6)

OVERALL RATING: ★★★★★

Flexible Program:

IIA's self-study Full Kit includes two full years of access to the course and all the study materials for all 3 parts of the CIA exam. With such a comprehensive test prep package and such a generous period of access, students won't have to worry about finding new study materials for quite some time!

Online Study Tools:

Interactive online tools help students determine what they should be studying. In addition to helping them organize a rock-solid study plan, the Institute of Internal Auditors offer tools that help students identify their strengths and weaknesses.

Expensive:

The CIA Learning System provided by IIA is one of the more costly courses on the market. What's worse is the fact that many features commonly found in other courses are missing here, leading many students to the opinion that they don't get a whole lot for the money.

Limited Demo and Poor Analytics:
Although there is a free demo for IIA, you won't get access to all parts of the course through it. This means that students won't know how the entire course functions before making a purchase, which makes the high cost even harder to justify.
IIA Frequently Asked Questions
Q: What are IIA's support options?
A: Students can reach out for support by contacting IIA through email, social media, phone, fax, or physical mail.
Q: Does IIA offer other certification courses?
A: Yes! IIA offers training for CGAP, CFSA, CCSA, and many others.
Bottom Line: In order to reduce anxiety and allow students to take their time, the IIA's study program offers a long access period and intuitive online study tools. It's very structure is designed to offer the most stress-free and casual experience with the aid of their excellent study tools.

But even when considering how nice these features are, it may still be very tough for students on a tight budget to justify paying the high price of this course. Worst of all is the fact that IIA's demo is limited and won't really offer a full view of what their course provides. Still, it's certainly worth consideration for students who are worried about panic attacks.

LEARN MORE ABOUT CIA LEARNING SYSTEM
Surgent Frequently Asked Questions
Q: Does Surgent offer a guarantee?
A: Yes! Students who take their course and fail to pass their CIA exam will get their money back.3
Gleim Frequently Asked Questions
Q: Does Gleim offer a guarantee?
A: Although they don't offer a money-back guarantee, Gleim has an Access Until You Pass Guarantee for their Premium review course.4
Lambers Frequently Asked Questions
Q: Does Lambers offer a guarantee?
A: Yes! Lambers offers a No Pass, No Pay Guarantee on all their CIA review materials.5
Additional Resources to Get You On the Right Track
Not sure you want to become an Certified Internal Auditor? Don't worry, I've got your back! You can check out my CIA vs CPA comparison to find out which is a better fit. Also, learn more about other Accounting and Finance certifications: Certified Public Accountant prep courses and Enrolled Agent review courses and put your future on the right track! If you have any specific CIA questions, just drop a comment below and I'll personally help you find the right course for you!
---