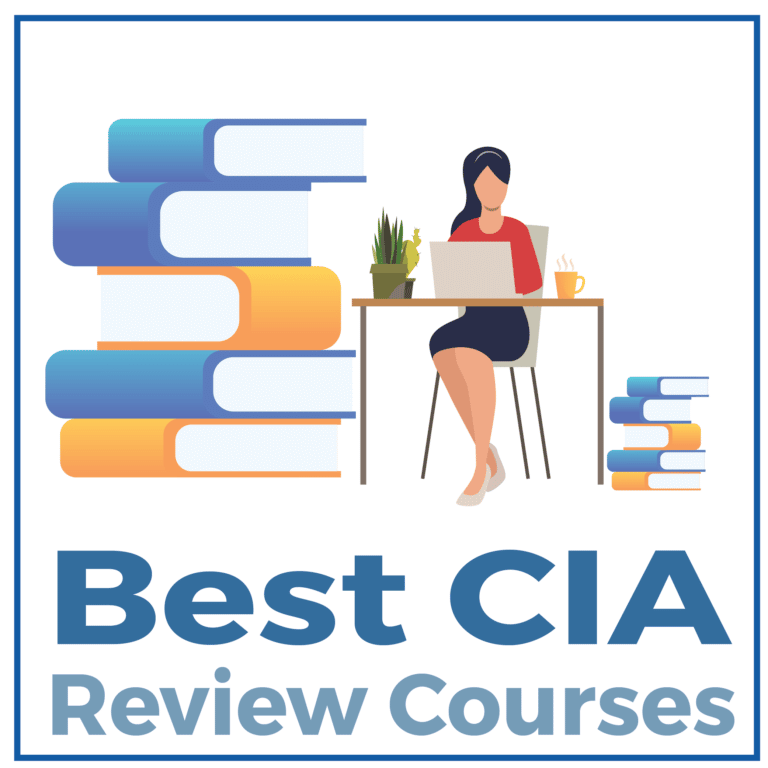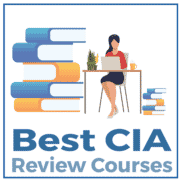 The future is uncertain and difficult to predict— especially when it comes to the job market. However, experts like Robert Half1 and the Bureau of Labor Statistics2 predict that the future job market for internal auditors is promising.
But if becoming a Certified Internal Auditor is in your future, the best thing you can do to ensure your success is to find a solid CIA Review Course.
With the countless CIA course options out there, it's hard to identify which CIA study materials will best help you prepare for the exam.
Here's how you can make an informed decision without wasting any time:
Use my comparison chart and individual CIA review breakdowns to significantly cut your study time and pass faster!
Which CIA Course Is Right for You?
This short questionnaire will help you decide what is the best option for you when it comes to preparing for the CIA exam.
---


---
The Top 6 Best Certified Internal Auditor (CIA) Exam Review Courses & Study Materials of November 2023:
Wiley CIA Review Course
---
How do you rate Surgent CIA Review ?
---
1. Surgent CIA Review
OVERALL RATING:  ★★★★★
Surgent pairs its adaptive learning technology with unlimited practice exams to prepare you for the format and content of the CIA exam.
A.S.A.P. Technology: Surgent uses their best-in-class technology to effectively craft customized practice tests for each student. If you've ever felt fatigued or frustrated by other courses' one-size-fits-all approach, this is the course for you!  
Expert Support: Surgent offers support from subject-matter experts who can provide guidance and clarify any doubts or questions you may have during your study process. Their expertise can be invaluable in helping you understand complex topics and ensuring you are well-prepared for the exam.  
Study Planner: This tool integrated into your dashboard helps you determine exactly how much time you'll need to spend preparing to ace the CIA Exam. It's surprisingly in-depth and can be a great way of ensuring students stay on track and don't lose their motivation to study.
Your Daily Surge: This helpful feature provides daily updates to your study plan. In conjunction with its other features, Surgent manages to provide students with a clear vision of their short-term and long-term goals.
Extended Access Period: Surgent CIA offers a generous 18-month access to their course materials, ensuring students have ample time to prepare and review without feeling rushed.
Course Details
Surgent's courses rely heavily on their adaptive learning program. Their proprietary A.S.A.P. Technology allows them to find gaps in your knowledge and adjust your study schedule to fill them in. As you work through the course, you'll earn a ReadySCORE— which uses A.S.A.P. Technology to determine how prepared you are for the CIA exam. It updates based on your performance in practice exams and how far along you are in the course. Thanks to that, you'll know exactly when you're ready to pass!
In addition to the regular updates, a detailed study planner helps to guide each day of education so no time is wasted. This makes Surgent an excellent study companion but it would still be nice for them to include any kind of video or audio content to appease auditory or visual learners.
Surgent's full CIA review course costs $499, which gives you access to the full 3 part review course for 18 months. But if that still feels too high, you can also choose to pay monthly through a financing program.
Surgent CIA Review Features
3 PDF Textbooks

2,500+ Multiple Choice Questions

Unlimited Practice Exams

Mobile Compatible

ReadySCORE Exam Readiness Indicator
Surgent Frequently Asked Questions
Q: How many practice questions does Surgent offer?
A: There are roughly 2,000+ practice questions in Surgent's CIA review program.
Q: Does Surgent offer a guarantee?
A: Yes! Students who take their course and fail to pass their CIA exam will get their money back.
Bottom Line: Surgent created a CIA prep course that is designed to be a natural part of a student's lifestyle. Right from the jump, their A.S.A.P. technology allows students to study from material that's tailor-made for them. Additionally, the daily updates ensure that they never have a day with nothing to do.
Surgent CIA Review Discounts & Promo Codes
---
2. Gleim CIA Review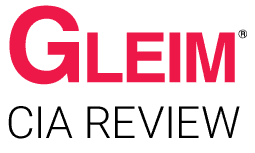 OVERALL RATING: ★★★★★
The knowledge you'll gain from the Gleim Instruct video lectures is reinforced by an adaptive learning system that makes sure you're studying effectively and maximizing your CIA skills.
Course Includes Personal Counselor and Accounting Experts: If you enroll in Gleim's prep courses, you won't need to pay for a tutor because each student is assigned their very own counselor! Personal counselors provide encouragement and help you craft the best study plan to prepare for the CIA exam. You'll also have access to accounting experts who can answer any questions about the course material.
Large Question Bank: If you're looking to maximize your chances of getting a high exam score, having more practice questions is extremely important. To accommodate this need, students can use Gleim's large test bank to create custom practice tests, making their study sessions more effective.
Available in Spanish: Gleim also offers a Spanish review course that includes the ability to toggle between English and Spanish. This is a tremendous benefit to students who would otherwise be extremely limited in terms of viable educational material.
Mock Exams: Gleim's Mock Exams offer students the opportunity to prepare for the CIA exam utilizing a platform that is virtually identical to the actual CIA exam. Thanks to this realistic simulation, much of the anxiety students experience before taking their exams can be effectively eliminated.
Rigorous Content: Some users have found Gleim CIA review materials to be dense and overwhelming. The content may be presented in a highly detailed manner, which can make it challenging to digest and comprehend, especially for individuals who prefer a more concise and straightforward approach.
Course Details
Gleim's review course relies heavily on video lessons and practice exams. Each lesson is taught by a professional educator and covers important topics. For example, certain lessons cover past CIA questions and specific real life examples. You'll frequently be asked to demonstrate this knowledge on practice exams, which will help you remember how to answer related questions on the exam.
Aside from this, Gleim ensures that students will have no shortage of study material with their huge pool of practice questions. Even students who don't speak English as their first language can use Gleim to study since they offer a Spanish course as well.
Gleim offers three CIA review course options. You can buy the Test Bank and practice exams for $447. Alternatively, you can purchase the $799 Traditional review which includes a study planner, audio lectures, Mock Exam(s) and access to Personal Counselors. To add even more features, you can purchase the Premium system for $949 which adds video lectures, digital flashcards, access to Accounting Experts, and Gleim's Access Until You Pass® Guarantee.
Gleim CIA Review Features
Video Lectures

2 Full Length Exam Rehearsals

SmartAdapt™ Technology

Digital and Physical Textbooks

3,500+ Practice Questions

Personal Counselors and accounting experts
Gleim Frequently Asked Questions
Q: How many practice questions does Gleim provide?
A: Gleim offers CIA prep students a pool of over 3,500+ practice questions to create their own practice tests.
Q: Does Gleim offer a guarantee?
A: Gleim offers both a money-back guarantee and their Access Until You Pass® guarantee for their Premium review course.
Bottom Line: Gleim knocks it out of the park with their CIA prep course. The assistance and insight that can be gained through the assistance of their personal counselors cannot be overstated. Their Final Review is also instrumental in guaranteeing students' success since it can accurately prepare them for the real CIA exam.
Gleim CIA Review Discounts & Promo Codes
---
3. Wiley CIA Review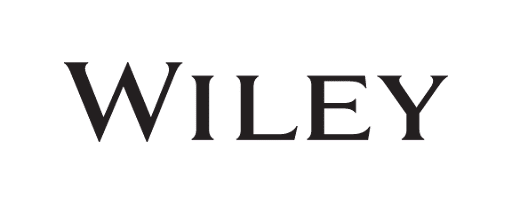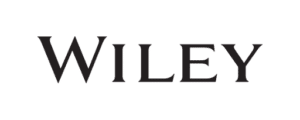 OVERALL RATING: ★★★★★
Important Disclaimer: After Wiley's integration into UWorld, the future of their CIA® prep materials is uncertain. Prospective students should stay alert to any curriculum or platform changes. Given the current unpredictability post-merger, we're hesitant to fully endorse Wiley for CIA® preparation at this moment.
Learning Center: Passing the CIA exam is just one step in a larger process— and you may have some steps to take before that. That's what Wiley's Learning Center is for; helping you pre and post-exam to have the perfect game plan.
Hardcore Test Bank: When you're ready to start studying, Wiley immediately brings you up to speed with an online interface that's similar to the actual exam-taking experience. This includes three mock exams— use these as a trial run before your actual exam date!
Mock Exams: Speaking of mock exams, Wiley's CIA course only comes with three. If you're interested in studying primarily through mock exams, you only get one for each part— so you have to make them count!
Limited Customization: Wiley CIA's platform doesn't offer as much flexibility in tailoring study plans or creating custom quizzes as some competitors, potentially making it less adaptable to individual learning styles and needs.
Course Details
For over two centuries, Wiley Efficient Learning has helped students learn and grow into successful bookkeepers, auditors, and other financial professionals. But that doesn't mean their CIA review course is old-fashioned— over time, they've iterated on their exam review programs with the aid of modern technology.
Wiley has stayed true to their roots by offering affordable study materials in time-tested formats, such as textbooks and Focus Notes. But they also offer a streamlined online test bank with thousands of practice questions, supplemented by over 30 hours of video lectures. These lectures are taught by an instructor with 4 Master's degrees!
I highly recommend signing up for Wiley's full CIA review course, but you can also get smaller sets of textbooks and practice questions if you want something more affordable. However, you would miss out on Wiley's CIA Exam Planner, which generates performance metrics as you work through the material. This will give you an estimate of how ready you are to take the CIA exam— which is a huge confidence booster!
Wiley CIA Review Course Features
6,800+ practice questions

34+ hours of video instruction

3 full-length mock exams

Assessment & Performance Metrics

Can be purchased by exam part

Free Trial
Bottom Line: While Wiley CIA was once our top recommendation for CIA preparation, the recent acquisition by UWorld has cast doubts on its future direction. Although they have a great program, given this significant change, we can no longer confidently endorse Wiley CIA at this time. on your first try. If you're even slightly curious, I recommend checking out their free trial.
---
4. Powers Resources CIA Review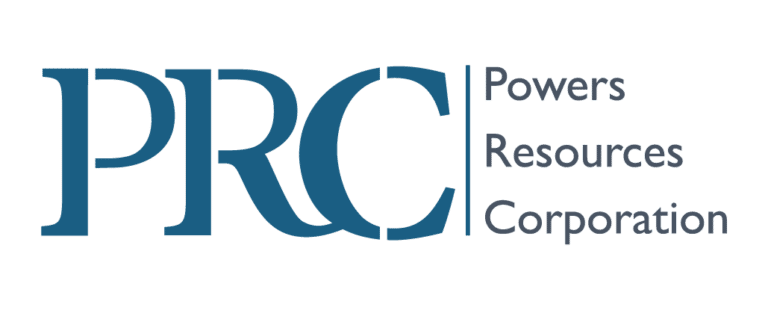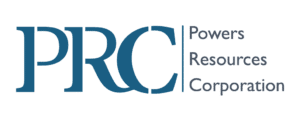 OVERALL RATING:  ★★★★★
Flashcards: Instead of having to pay extra for flashcards, PRC includes over 2,800 e-flashcards. You will be able to organize them by high, medium, and/or low priority. And, there's space for you to keep notes!
Mock Exams: At the end of every CIA Part, you will have two mock exams where you can practice all you've learned in a way that mimics the real CIA exam. This is essential when you are conducting your final review and want to practice your understanding in a real CIA exam layout and functionality.
No Video Lectures: PRC does not have any video lectures. You must read the textbook in order to review the material, which is not ideal for visual learners.
Outdated Interface: PRC CIA's platform, while functional, hasn't seen significant updates in a while, making it feel less modern and potentially less intuitive compared to newer prep platforms.
Limited Interactivity: Unlike some competitors that offer dynamic quizzes and interactive simulations, PRC CIA's materials are more static, which might not cater to learners who benefit from a more hands-on approach.
Bottom Line: Powers Resources is a fantastic companion program to an aspiring CIA student's study program. With thousands of practice questions and flashcards, you may not even miss the absent video lectures.

---
5. Lambers CIA Review

OVERALL RATING: ★★★★★
Audio Review: Lambers caters to audio-visual learners by offering an audio course in addition to DVD lectures, practice questions, and practice tests. The inclusion of these materials makes it significantly easier to study while performing other tasks, such as chores around the house or exercising at a gym.

Comprehensive Video Lectures: Lambers CIA stands out for its in-depth video lectures, led by experienced instructors who delve deep into topics, ensuring students gain a thorough understanding. These videos are particularly beneficial for visual learners and those who prefer guided instruction over self-study.
Price: This is an extremely expensive course. You will pay $1,800 for just the DVDs and the Test Prep Software, which is frankly beyond the pale for many young students. It isn't that difficult to find courses with lower prices that offer more advanced features that take advantage of cutting-edge technology.
Outdated Technology and Site: Information on the Lambers website is outdated and the course dashboard has obviously not been redesigned in many years. This is most likely to be the biggest deal breaker for most prospective students, especially when considering how expensive this course is as well.
Customer Service Concerns: Some users have reported dissatisfaction with Lambers CIA's customer support, citing delayed responses and unresolved issues. This can be a significant drawback for students who might require timely assistance during their study journey.
Less Recognized Brand: Compared to some of the giants in the exam prep industry, Lambers CIA is a less recognized name. This might lead to some initial hesitation among potential students who often lean towards more established and widely-known brands for their study needs.
Lambers Frequently Asked Questions
Q: Does Lambers offer a guarantee?
A: Yes! Lambers offers a No Pass, No Pay Guarantee on all their CIA review materials.
Q: Does Lambers offer CIA tutoring?
A: For an extra fee, students can purchase an "Ask The Expert" package with one-on-one instruction.
Bottom Line: Auditory and visual learners will appreciate the video and audio content provided by Lambers CIA review. And those few individuals who still use physical media such as DVD will appreciate the included training discs. However, this heavy reliance on outdated course technology can turn off a lot of prospective students.

Something else that might scare off potential students is Lambers' price. When considering just how outdated some of these learning materials are, it's going to be difficult to justify the higher than average cost. However, there is still a lot of merit to this program and it makes for a useful resource to aspiring CIAs.

LEARN MORE ABOUT LAMBERS CIA REVIEW
---
6. IIA CIA Learning System

OVERALL RATING: ★★★★★
Flexible Program: IIA's self-study Full Kit includes two full years of access to the course and all the study materials for all 3 parts of the CIA exam. With such a comprehensive test prep package and such a generous period of access, students won't have to worry about finding new study materials for quite some time!
Online Study Tools: Interactive online tools help students determine what they should be studying. In addition to helping them organize a rock-solid study plan, the Institute of Internal Auditors offer tools that help students identify their strengths and weaknesses.
Expensive: The CIA Learning System provided by IIA is one of the more costly courses on the market. What's worse is the fact that many features commonly found in other courses are missing here, leading many students to the opinion that they don't get a whole lot for the money.
Limited Demo and Poor Analytics: Although there is a free demo for IIA, you won't get access to all parts of the course through it. This means that students won't know how the entire course functions before making a purchase, which makes the high cost even harder to justify.
IIA Frequently Asked Questions
Q: What are IIA's support options?
A: Students can reach out for support by contacting IIA through email, social media, phone, fax, or physical mail.
Q: Does IIA offer other certification courses?
A: Yes! IIA offers training for CGAP, CFSA, CCSA, and many others.
Bottom Line: In order to reduce anxiety and allow students to take their time, the IIA's study program offers a long access period and intuitive online study tools. It's very structure is designed to offer the most stress-free and casual experience with the aid of their excellent study tools.

But even when considering how nice these features are, it may still be very tough for students on a tight budget to justify paying the high price of this course. Worst of all is the fact that IIA's demo is limited and won't really offer a full view of what their course provides. Still, it's certainly worth consideration for students who are worried about panic attacks.

LEARN MORE ABOUT CIA LEARNING SYSTEM
---
Certified Internal Auditor FAQs
Q: How long does it take to become a Certified Internal Auditor?
A: Based on the prerequisites, it takes a minimum of 4 years to become a CIA.
Q: Is CIA harder than CPA?
A: Most people consider the CPA exam more difficult because it consists of more parts and has a lower pass rate.
Q: Which is the hardest part of the CIA exam?
A: Part 3 of the exam (Internal Audit Knowledge Element) is largely considered the most difficult part. This is because it asks you to make advanced calculations and test you on more complicated topics.
---
Additional Exam Prep Resources to Get You On the Right Track
Not sure you want to become an Certified Internal Auditor? Don't worry, I've got your back! You can check out my CIA vs CPA comparison to find out which is a better fit. Also, learn more about other Accounting and Finance certifications: Certified Public Accountant prep courses and Enrolled Agent review courses and put your future on the right track! If you have any specific CIA questions, just drop a comment below and I'll personally help you find the right course for you!
---
https://www.roberthalf.com/salary-guide/accounting-and-finance
https://www.bls.gov/ooh/business-and-financial/accountants-and-auditors.htm#tab-6
Bryce Welker often contributes to Forbes, Inc.com, and AccountingToday.com as well as speaks frequently. He does this to assist others advance their careers. Bryce is the creator of more than 20 test preparation websites that aid individuals in passing certification tests.