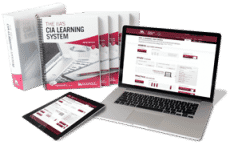 Course Rating: ★★★★★
The CIA Learning System is the official study material developed by the Institute of Internal Auditors (IIA). I have received many inquires from CIA candidates asking if it's necessary to use this course to pass the Certified Internal Auditor exam, or if there are better and cheaper review courses on the market. This review covers the strengths and weaknesses of the CIA Learning System so you can compare it to other CIA course providers and decide for yourself.
The IIA's CIA Learning System self-study course includes printed and e-book reading materials, interactive online material, and the option of live, instructor-led courses. The full kit covers all three parts of the exam, or you can purchase the materials for each part separately.
Pros & Cons
Flexibility : The self-study option means that you can study where you want, when you want, and at your own pace. If you buy the self-study Full Kit, you will have two years of access to the course and all the study materials, so you can take your time to really learn the material for each part of the exam as long as you stick to a regimented study plan.
Online Study Tools : Interactive online tools make it easy to create a customized study plan based on your performance on practice questions and tests. You can take a diagnostic pre-test to determine your strengths and weaknesses and then use the SmartStudy feature to design your study plan. Quizzes follow each chapter, and post-tests help you identify how much information  you have retained once you've covered all of the material. Five textbooks cover everything you need to know for all three parts of the exam.
Optimized for Mobile Devices : Although there is no dedicated app for the IIA CIA self-study program, candidates will be able to access all course features from their smartphones and tablets for more convenient study. You can study on the road if you commute, or pull out your phone while you are waiting in line to read a textbook chapter or practice a problem or two.
In-Person Courses : For students who prefer a more traditional classroom course taught by an instructor they offer online seminars, weekly classes, and multi-day seminars in a number of US and international locations through local IIA chapters, universities, and other partners. Many of these courses also include access to all the online study materials.
Limited Demo & Analytics : You can sign up for the free demo if you are interested in checking out some elements of the course before you buy it, however, the demo does not give you access to all parts of the course and the access is for a small amount of time. The course demo involves limited guided tour of the site and its features plus an example textbook chapter. Interested candidates must also fill out a short survey to get access to the demo. Although you can get some feedback on your progress, this is not a learner-adaptive course: the same questions may pop up over and over again, and there is no sophisticated software to track your performance statistics or determine which kinds of practice questions would be best for each individual student.
Price : At $895 for the complete course, the CIA Learning System is one of the most expensive courses on the market. Given their relatively limited course analytics and lack of more advanced features (no creation of customized exams with detailed filters, etc.) students would do well to shop around. E-seminars and live courses led by facilitators are even more expensive at more than $1,000 per course.
No Audio or Video Lectures : This course is comprised solely of information in the textbooks, practice questions, and practice tests. Unless you enroll in a live course with a facilitator, you will have to teach yourself the material from the books included in the course and working out the practice questions on your own.
Ideal User
As with most review courses, students who are self-motivated and can keep to a regular study plan will do fine with this self-study program and study materials. Those who perform better in a structured classroom setting will probably benefit more from a live, facilitator-led review session with peers. Internal audit professionals with considerable experience will certainly have to study for the CIA exam, but should keep in mind that the CPA exam is generally considered to be much more difficult.
My Suggestion
Although the textbook materials are a great way to prepare for the exam, the online tools are less impressive than those offered by many of IIA's competitors. The most comforting aspect of the CIA Learning System is that it was designed by the Institute of Internal Auditors (IIA), so students can feel confident that the material they are learning is what will be covered on the exam.
That being said, many candidates agree that the practice questions they offer are less challenging than other CIA prep courses like Gleim CIA Review.
The CIA Learning System is a decent course, but compared to some of their competitors it's more expensive, less comprehensive, and uses more outdated technology. I would suggest checking out all your options before committing to this CIA review course.
COMPARE THE BEST CIA REVIEW COURSES!
Summary of Course Features
Study materials in a combination of print and e-reader form
Access to online tests and study tools
Pre- and post-tests
Chapter quizzes
Flashcards & glossary
CIA practice exam
Access to online resource center
Pricing
IIA CIA Learning System: Self-Study Full Kit (3-Part Exam)
Price: $895
Includes: Study materials for all three parts of the CIA exam in print and e-reader form, access to online tests and study tools for two years, pre- and post-tests, chapter quizzes, flashcards, glossary, CIA practice exam, and online resource center.
IIA CIA Learning System: Self-Study Part 1, 2 or 3 (when purchased separately)
Price: $325
Includes:
Study materials for Part 1, 2, or 3 of the exam (each sold separately) in print and e-reader form, access to online tests and study tools for 1 year, pre- and post-test, chapter quizzes, flashcards, glossary, CIA practice exam, and online resource center.
To compare the CIA Learning System to other review courses, please click the button below.
COMPARE THE BEST CIA REVIEW COURSES!
Bryce Welker often contributes to Forbes, Inc.com, and AccountingToday.com as well as speaks frequently. He does this to assist others advance their careers. Bryce is the creator of more than 20 test preparation websites that aid individuals in passing certification tests.