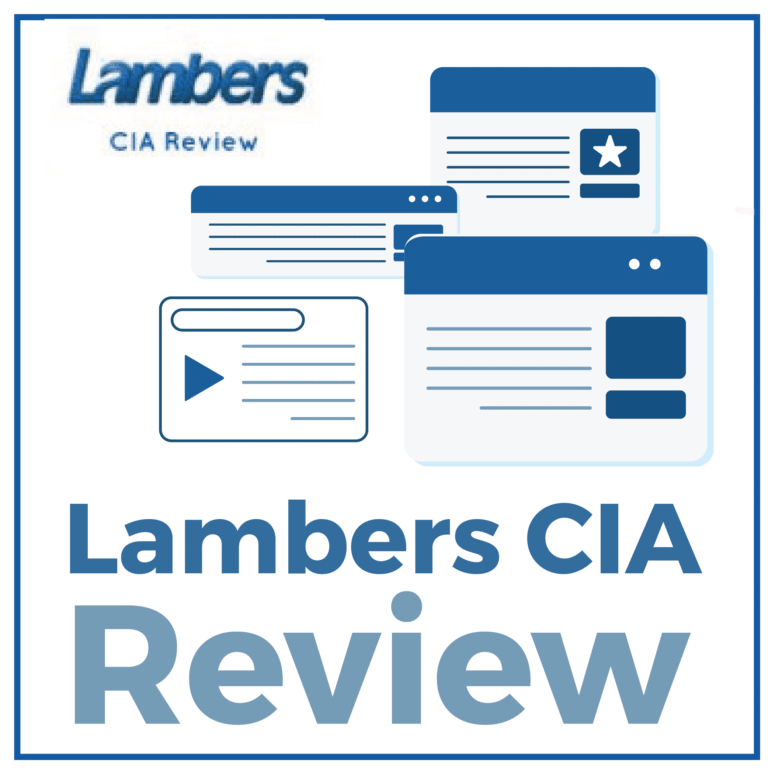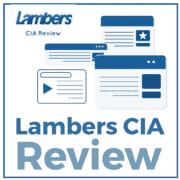 Course Rating: ★★★★★
Lambers has been active in the test prep industry since 1966 and offers review courses for a variety of accounting courses.
Lambers CIA Review uses case studies and examples to help students understand, remember, and apply what they learn. Their course aims to make studying more efficient by only including subject matter that is the most relevant and likely to show up on the CIA exam. Busy professionals today have no time to waste studying material that is unlikely to be tested on, so Lambers helps you study only what you need to know to pass.
PROS
1. Course DVDs
Lambers CIA review includes over 60 hours of training videos that cover information for all 3 parts of the exam. The review material for each part of the exam comes either as a video series or as downloadable iPod DVD lessons, and an associated workbook. Each lesson lasts approximately one hour in an effort to avoid overwhelming students with too much material at once. The video lessons are taught by experienced instructors and filmed inside a classroom.
The recorded lectures offer an advantage over courses that provide students with textbooks and expect students to teach themselves the material. Students can watch hundreds of problems being solved step by step, and can pause the recording to take notes or rewind and replay specific sections as needed.
2. Workbook Set
A set of textbooks including hundreds of test questions, examples, and outlines accompanies the Video/DVD lectures. Each workbook is designed to be straightforward and to help students maximize retention of the most important information that is likely to appear on the exam.
3. Supplemental Audio Review
Lambers Audio Courseware can be used as a convenient study supplement when you are out and about. Designed for MP3 compatible players, it includes CDs to download to your computer to be synced with iPods or MP3 portable players, training workbooks, practice questions worked out by professors, and current, up-to-date courseware. An audio sample is available on the Lambers website.
4. Three Adaptive Test Modes
The Test Prep Software includes three separate testing modes that adapt to your current level of proficiency. The Pretest Mode gives exam candidates a better understanding of how much they already know and which areas they will need to brush up on. This avoids having to review material you already know and allows you to focus on your weaker areas.
The Adaptive Drill Mode helps students focus and drill the material until it sticks. If you come across a concept or question you don't understand, this mode gives you access to more thorough explanations and provides links to more information that will help you learn and understand them better.
Once you've mastered your weaknesses, it's time to work on your test-taking skills and build confidence with the Simulated Mode. The simulated exam mode dials up the pressure by giving students more difficult questions in a format that appears more similar to what they will encounter on the actual CIA exam.
5. Money Back Guarantee
Lambers offers a "No Pass No Pay Guarantee" that promises a refund for those who fail the exam twice after using their products. Please see the Lambers website for the specific requirements that must be met in order to qualify for a refund.
CONS
1. Price
The biggest drawback of Lambers' CIA Review is its exorbitant price. At $1,800 for just the DVDs and the Test Prep Software for all three parts of the exam, this review course costs 3 to 4 times as much as competitors' options, and there is no discount for purchasing study materials for all 3 parts of the exam as a bundle.
Each additional feature is priced separately, and is relatively expensive. For example, the audio review course for all three parts of the exam will set you back by $700, the flashcards cost an additional $500, and the "Ask The Expert" Service is overpriced at $300, given that it is basically a way to get your questions answered by emailing staff. Building a comprehensive course in order to have access to all or even most of the features turns out to be an expensive proposition.
2. Dated Website
Information on the Lambers website dates back to the CIA exam's change in 2013, giving the impression that Lambers does not update its corporate website with the most recent and relevant information regarding the CIA exam. The course dashboard is also outdated and could benefit from a newer and more streamlined design.
Ideal User
Lambers DVD lessons are best suited for audio-visual learners who prefer not to teach themselves the material from a textbook. Few other review courses offer lectures or demonstrate how to work out problems, so students who need additional guidance will benefit most.
The tips and tricks offered in this course are a nice bonus because they show you where you should focus your time and energy. Lambers prides itself on sticking to the most commonly tested concepts and steering students away from irrelevant material to save time by memorizing only the most pertinent information for the exam.
My Suggestion
The most compelling reason to go with Lambers CIA Review is the access to the instructional DVDs. The majority of online review courses provide students with textbooks, workbooks and online practice questions, but fall short when it comes to presenting the material in lecture format.
On the other hand, Lambers' course simply doesn't offer enough value or features to justify their extremely high price tag. Students who don't need the DVD lectures to succeed would do well to investigate other CIA course options before spending this much money on a review course.
COMPARE THE BEST CIA REVIEW COURSES!
---
Summary of Course Features
DVD classroom lectures in MP4 Format
Online or CD-Based classroom lectures
Adaptive Test Prep Software with 3,100+ practice questions, answers and explanations
Electronic Flashcards
Supplementary Audio course material for MP3 players
Reference Workbooks for study and practice
"Ask The Expert" Service for additional support via email
Pricing
Lambers DVD iPod Course
Price: $299.95 for Part 1 or Part 2; $599.95 for Part 3
Includes: Set of recorded classroom lectures in MP4 format taught by professor Garland Granger, MBA, CPA, CIA.
Lambers Video Courseware CIA
Price: $299.95 for Part 1 or Part 2; $599.95 for Part 3
Includes: Set of recorded classroom lectures available online or in CD-based format taught by professor Garland Granger, MBA, CPA, CIA.
Lambers Test Prep Software
Price: $149.95 for Part 1 or Part 2; $299.95 for Part 3
Includes: Online or CD-based test prep software containing more than 3,100 practice questions, answers and explanations, hyperlinks to the Wiley CIA Review textbook, and free updates.
Lambers Flash Cards
Price: $124.95 for Part 1 or Part 2 Flash Trainer; $249.95 for Part 3
Includes: Electronic flashcards containing of 169 key terms, formulas and definitions, including monitoring and feedback of your performance. Flash cards may also be printed out.
Lambers Audio CIA
Price: $199.95 for Part 1 or Part 2; $299.95 for Part 3
Includes: Supplemental audio courseware designed for any MP3 compatible player that includes downloadable CDs to sync with iPod or MP3 player, workbooks used by course professors during training, and recordings of professors working out hundreds of problems and questions.
Lambers "Ask The Expert" Service for CIA
Price: $299.95
Includes:
Individual support via email from a Lambers subject matter expert to answer your specific questions and provide guidance.
To compare Lambers CIA Review to other prep courses, please click the button below.
COMPARE THE BEST CIA REVIEW COURSES!
---
Lambers CIA Breakdown
| | |
| --- | --- |
| Lambers CIA Review | Strengths |
| 1. | Course DVDs |
| 2. | Workbook Set |
| 3. | Supplemental Audio Review |
| 4. | Three Adaptive Test Modes |
| 5. | Money Back Guarantee |
Bryce Welker often contributes to Forbes, Inc.com, and AccountingToday.com as well as speaks frequently. He does this to assist others advance their careers. Bryce is the creator of more than 20 test preparation websites that aid individuals in passing certification tests.