Surgent CIA Review course offers many appealing features that not only make it a viable study tool for students looking to pass the CIA exam, but also an educational resource that can't be imitated.
In a similar fashion to other exam prep programs offered by the company, Surgent relies heavily on the power of adaptive learning technology to tailor-fit study plans for each enrolled student. One of the results of this can be see when you look at the statistics that Surgent CIA review students pass on average 73% faster!
With an easy-to-use interface that is accessible on a variety of devices, Surgent's CIA prep program is a modern tool for the modern student.
Surgent CIA Strengths
1. A.S.A.P. Technology
Short for "Adaptive Study and Accelerated Performance", this is the backbone of Surgent's educational toolkit. After taking a comprehensive 150-question assessment, students' knowledge of CIA exam material is evaluated and organized by topic.
This allows the program to effectively craft customized practice tests for each student that help to familiarize them with aspects of the exam they may struggle with. With the aid of this technology, students are sure to be prepared for the real thing as soon as possible.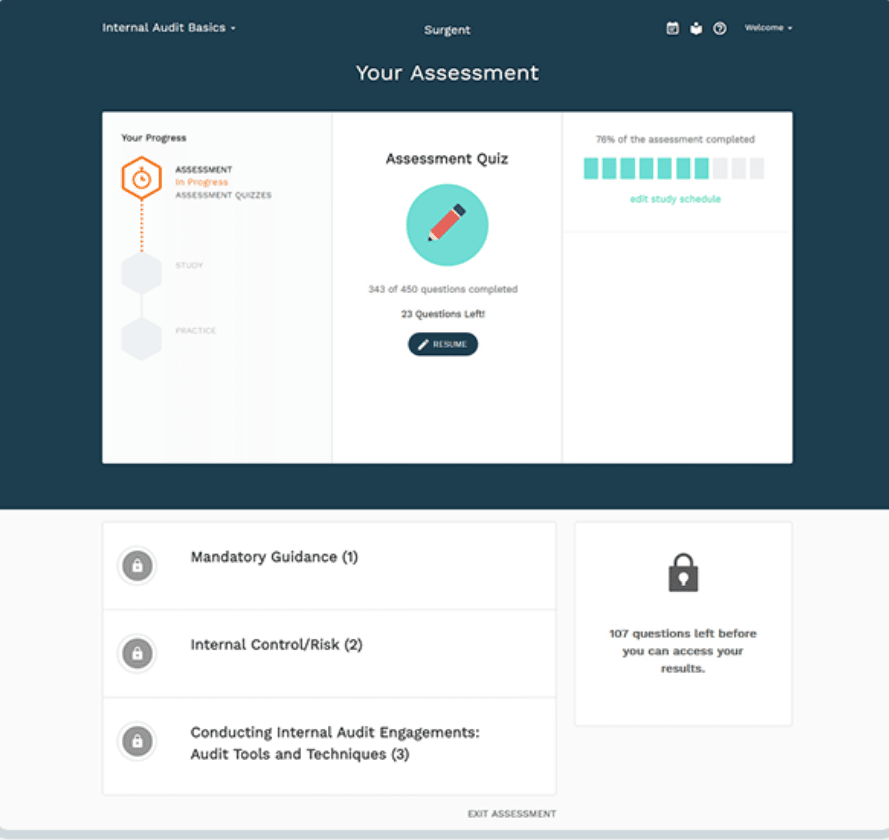 Dashboard
Surgent's CIA test prep dashboard was designed so that important information is displayed front and center. As part of their goal to save students as much time as possible, everything needed to immediately start studying can be easily located in one or two button presses from the home screen.
While this may seem like a minor feature, the truth is that an intuitive interface can help to motivate students who would have been too intimidated to start studying otherwise.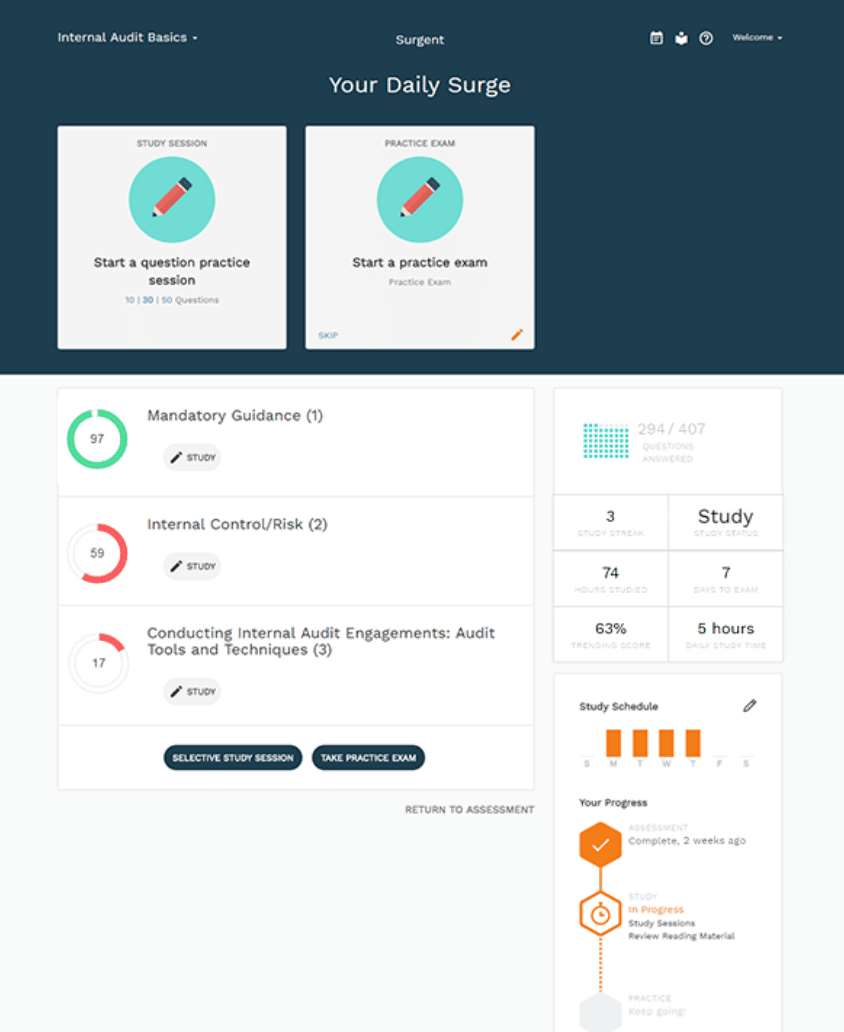 Analytics
Another helpful feature provided by Surgent's robust online program is their Trending Score system. As students complete practice tests, powerful analytics are used to gauge their readiness for the CIA exam. The more a student uses Surgent's study tools, the more accurate of a reading they will receive from their Trending Score.
According to Surgent's website, students with a Trending Score of 75% had an 89% chance of passing the exam, while those with a score of 80% or higher had an impressive 100% chance.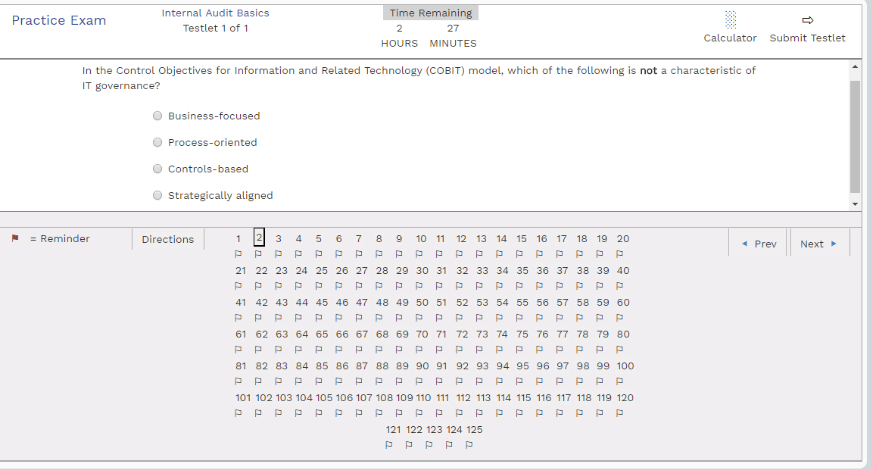 Flexible Pricing
While many of the features discussed above are appealing, perhaps the most appealing aspect of Surgent's CIA study tools are its flexible pricing. Students who are looking to only study for one part of the CIA exam can purchase an individual course for a fraction of the full price.
These courses each offer almost 600 practice questions and offer the same powerful adaptive learning and analytic tools provided by the full package. For repeat exam takers, this is quite possibly the most affordable option for brushing up on one specific aspect of the test.

New financing is also available for full courses, starting from $44/month with Affirm.
Mobile Textbook Access
In recent years, it's become harder and harder for many students to juggle study time with other obligations. Because of that, Surgent ensured that their CIA prep textbooks come in a format that can be accessed anywhere and at anytime, allowing for quicker study sessions on the go.
Frequent Updates
In order to ensure that all of their educational materials are up-to-date, Surgent's CIA review course is frequently updated with new material. Best of all is that these upgrades are completely free for all enrolled students.
Surgent CIA Weaknesses
No Lectures
For some university students who have to listen to multiple lectures a day, this may actually be a positive aspect of the exam. However, there are many students who learn best when the material is explained to them in this way. Unfortunately for them, Surgent includes no audio or video lectures in their CIA prep program. For those who aren't satisfied with practice tests and downloadable textbooks, this will probably be a dealbreaker.
Ideal User
The kind of student that would get the most out of Surgent CIA Review is one that is self-motivated. Without any live teachers or lectures, only students with the discipline and drive to study on their own will benefit from this educational tool. They will also need a computer or smart device with a stable internet connection in order to take advantage of the A.S.A.P. technology and Trending Score feature.
Some features of this CIA prep program will appeal to specific students who fulfill this criteria. For instance, those with limited amounts of free time due to work or school will appreciate how little time it takes to take a practice test and examine their results. Repeat exam takers can appreciate this program as well because of its ability to pinpoint specific topics on the exam they may be having problems with, as well as its flexible pricing.
My Suggestion
While it may not have as many features as some other CIA test prep programs, Surgent's review course is a laser-guided study tool that can help students prepare for the exam in record time. If you're looking for a high-tech study tool that won't waste your time, check out Surgent CIA Review.
---
Best Surgent Coupon Codes & Discounts
How do you rate Surgent CIA Review?
Bryce Welker often contributes to Forbes, Inc.com, and AccountingToday.com as well as speaks frequently. He does this to assist others advance their careers. Bryce is the creator of more than 20 test preparation websites that aid individuals in passing certification tests.