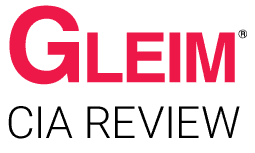 Are you a young professional interested in becoming a CIA? No, we aren't talking about becoming the next 007. We mean you're a financial professional ready to become a Certified Internal Auditor.
This can be an exciting (and lucrative) endeavor, but it won't necessarily be an easy one.
With a worldwide historical pass rate teetering around 40%, the CIA exam is notorious for its difficulty.
You'll definitely need to prepare.
Let's talk about your motive and first steps.
Are you preparing to take the CIA exam so you can become certified and review financial records for a living? Smart move!
Maybe you're already working as an auditor but want to become certified to increase your career mobility. Passing the CIA can definitely help
Or maybe neither one of these situations applies to you, and you have another reason for wanting to pass the CIA exam. Keep reading!
Regardless of your motivation, you'll want to start by finding resources to help you pass the CIA exam.
Over the past four decades, Gleim Exam Prep has proven to offer some of the most effective ways to prepare for the CIA exam. Their materials are structured in a way that not only sets them apart but also builds a deep understanding of topics. This will not only help you pass the CIA exam but also strengthen your skills as an auditor.
Take a look at these Gleim CIA discounts and Gleim CIA discount codes so that you can earn the credentials you need but do it for less.
Already a CIA?
If you're already a CIA but are on the hunt for continuing education credits, look no further. As a practicing CIA, you must complete 80 hours of CPE every two years. Thankfully, this premier test prep company also offers Gleim CIA discounts for CEC courses. In addition, the Internal Audit Foundation (IIA) pre-approved many of these courses.
What's even better–one of the Gleim CIA discounts offered is a CPE free trial!
Gleim CIA Discount Codes
Gleim's CIA Premium Review System is one of the best options out there. It combines hours and hours of video lectures with both digital and physical copies of CIA study books. The course also includes all access to a practice question test bank, digital flashcards, and a digital notebook.
With the support of Gleim personal counselors and accounting experts, you'll be more than ready on CIA exam day.
What's even more exciting is that Gleim offers an Access Until You Pass® Guarantee. This means that you can study at your own pace until you pass the exam with no lose access time-clock ticking.
If you're ready to experience the Gleim Premium Review first-hand, make sure to check out our exclusive Gleim CIA discount codes below.
Other Gleim CIA Discounts
Not sold on Gleim's CIA Premium Review System? Future CIAs have lots of other options to choose from!
Gleim also offers:
A Traditional CIA Review System
CIA Challenge Exam Review System
Al a carte access to their Test Bank
Although the perks and prices differ, you can secure each of these offerings at a great rate using Gleim CIA discounts.