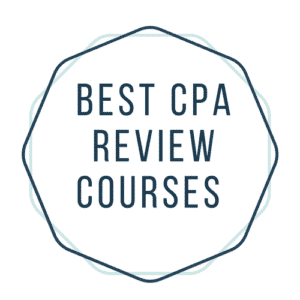 It can be tough finding the best CPA review course in 2021. There's so many options, how do you know which course is going to work for you? Ideally, you would find the best CPA study materials on the first course you try. Unfortunately the CPA exam is one of the hardest professional exams out there, so picking the wrong course could cost you months of studying and a lot of money.
Luckily we've done the research for you and have personally tested the CPA prep courses below. Save your time, money and frustration by finding the best course for you using our helpful comparison chart below.
---


---
Click Below To Research Top 7 Best Certified Public Accounting (CPA) Exam Review Courses & Self-Study Materials [2021 Updated CPA Prep Reviews]:
CPA Prep Courses
Roger CPA Review
Wiley CPAexcel
Surgent CPA Review
Yaeger CPA Review
Gleim CPA Review
CPA Courses
RANKINGS
#1
#2
#3
#4
#5
OVERALL
RATING

★★★★★

★★★★★

★★★★★

★★★★

★

★★★★

★

PRICE
$2,895

$2095



$2,450

$1,950



$1,799 $1,299

$1199

$1079



$1,999 $1,599

BEST FEATURE
Most Engaging Lectures
Bite-Sized Lessons
Best Adaptive Learning Technology
Great Value
Most Comprehensive Content
AUDIENCE
Structured auditory learner who needs to keep motivated
Self-studier with busy schedule and little time to study
Students who want to study at their own pace
Visual learners who want step-by-step explanations
Dedicated self-studier
COURSE FORMATS
Online or Offline USB
Online or Offline USB
Online Only
Online & Offline
Online Only
PRACTICE QUESTIONS
5,800
12,000
6,840
5,000
9,200
SIMULATIONS (TBS)
400
600
295
164
1,000
VIDEO LECTURE HOURS
120
110
350 Video Lessons
104
100
FINANCING OPTIONS
AUDIO COURSE
MOBILE
APP
UNLIMITED COURSE ACCESS
18 months
18 months
FLASHCARDS
$50 per Section
FINAL REVIEW INCLUDED
STUDENT SUPPORT
24/7 Homework Help Center
Professor Mentoring – 24 Hour Response Time
Live Chat, Email & Phone Support
Instructor Hotline – Phone & Email Support
Personal Counselor – Phone & Email Support
PROS & CONS
Read Review
Read Review
Read Review
Read Review
Read Review
FREE TRIAL OR DEMO
START NOW
START NOW
START NOW
START NOW
START NOW
1. Roger CPA Review Course

RATING:★★★★★

Exciting Videos: One of the best selling points of this CPA exam review course is Roger himself. He's a truly an exciting and engaging teacher. If he can't make you pay attention, then no one can! His upbeat personality pulls you in and makes the CPA study materials easier to digest.

Best CPA Study Material: Roger not only teaches his CPA review courses but writes his companion books and MCQ's himself. You know you're getting quality CPA study material based on Roger's experience and excitement.

The Roger Method: Roger uses a combination of memorization techniques, memory aids and mnemonics to help you retain the vast amount of information. These simple tricks make it much easier to remember come exam day.

24/7 Access: All the Roger CPA Review courses offer unmatched flexibility in how you study. They are available with 24/7 online access, mobile devices, and offline with USB. Plus for the long morning commute they even have popular audio lectures.
Why Roger CPA Review? If you're tired of boring accounting lectures, and you need a course that's straight to the point with unmatched flexibility pick Roger.
2. Wiley CPAexcel Review Course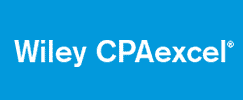 RATING:★★★★★

Miniature Lessons: Wiley CPAexcel understands that students have a lot on their plate. While some courses force you to sit through hours of lectures Wiley does the opposite. They break down their lectures into mini modules that take as little as 30 minutes to complete. The best perk of the shorter lectures is you can cover far more material at a faster pace.

Optimized Study Plan: CPAexcel is one of the most productive CPA study materials we have reviewed to date. The course includes analytics to give you performance metrics and specific exams designed to help determine your weak areas. Their CPA courses are focused on your "Study Strategy" to review your progress and create the perfect study plan.

Study Anywhere: A great perk of Wiley CPAexcel is the ability to download the course on as many devices as you'd like. This ensures you have the option to study on your phone, tablet, laptop or even a friends. The course also has a mobile app that's great for practice and gives you access to 12,000+ MCQ's and 4,000+ flashcards.

Unlimited Access: With Wiley you'll get unlimited access and free updates on any of their course offerings! The Wiley CPAexcel course does not have an expiration and all updates and upgrades are free until you have passed the exam.

Exam-Simulation: The practice MCQ's and simulations are presented in the same way you'd see on the actual exam. When you're ready to take your CPA exam you'll rest assured it's one less thing you need to learn or remember.
Why Wiley CPAexcel? Wiley is the perfect course for you if you're a person on the go and looking for mini sized lessons to squeeze into your daily schedule.
3. Surgent CPA Review Course


RATING:★★★★★

Experienced Instructors: Surgent CPA Review has been helping student pass the CPA exam for a long time. They have experienced instructors with more than 15 years of experience. This gives them more insight and useful strategies to help students who are struggling.

Adaptive Learning Technology: While most CPA course providers tout adaptive learning these days, Surgent is the only course to offer real algorithmic learning. This means their system will identify your weaker areas automatically and help design a learning plan based entirely on the areas you need help. This allows students pass much faster saving more than 50 hours of study time.

Unlimited Course Access: With Surgent CPA Review, you have access to course and materials until you pass. It's important to note that many other course providers do not offer unlimited access and if you need extra time you'll have to buy another course.

Big Value: In terms of getting a great deal it's hard to beat the Surgent CPA Review. With some of the best technology and more streamlined access to content, you'd expect a price tag that's a lot higher.

Free Flashcards: Surgent has a Free CPA Exam flashcard app that is available for on Google Play or the Itunes Store with a 5-star ratings. The app features 2,200 terms and definitions which are great for studying on the go and is free!
Why Surgent CPA Review? If you're looking for the most advanced technology to help you pass faster, plus experienced instructors go with Surgent CPA Review!
4. Yaeger CPA Review Course

Excellent Customer Support: You may have some reservations about the lack of live lectures or fear that your questions won't be answered. However, Yaeger provides access to their instructors through the live Instructor Hotline. This is an important feature that many other courses do not have. Even Phil Yaeger himself has been known to help out on the Instructor Hotline.

Customized CPA Course Format: Yaeger provides flexibility by catering to all learning types. The new AdaptaPASS course uses students preferences on how they like to study whether you prefer video lectures or textbook format.

Teaching Approach: Yaeger's instructors focus on ensuring that you fully understand the concepts as opposed to rote memorization. They will walk you through each topic in their video lectures, while they reinforce your understanding of each concept by working through 100's of MCQ's nd simulations right alongside you.

Best Price CPA Review Course: The complete Yeager online course features hundreds of video lectures, interactive textbooks, test bank software, handouts, and access to the Instructor Hotline all at a very affordable price. The complete package with our discount is just above $1,000.
Why Yaeger CPA Review? Yaeger is a great fit for you if you're on a tight budget and want a comprehensive course that gives you more than enough information to successfully pass the CPA Exam.
5. Gleim CPA Review Course


RATING:★★★★★

Comprehensive Material: The Gleim material covers every topic that could appear on the exam and goes into great detail. By studying every possible area, you can be certain that there will be no surprises when you take the actual exam.

Number of Questions: Gleim provides students with over 9,000+ multiple choice questions. Using Gleim as a supplement for FAR, I found that the questions were a lot more difficult than those on the actual exam. By mastering the difficult practice questions, I was more than prepared for the questions on my exam.

Affordable: At $1,599 Gleim is the best bang-for-your-buck course on the market. Thousands of practice questions and sims, a customizable study planner, audio lectures, and a personal counselor all make this course stand out. If you just want to use this program as a supplement, you can even purchase individual test prep for a single section of the exam for under $200.

Audio Review: An audio review is provided with the purchase of the Gleim Review System package. It can be downloaded to multiple devices to facilitate studying on the go. I used an audio review while I studied and it helped me tremendously. The information is relevant and set up logically in 20 audio lectures (per section) that last approximately 30 minutes each.

Access Until You Pass: Gleim Online will remain current for 18 months from your purchase date, but if you do not pass within that time frame by using Gleim materials, they offer extended "Access Until You Pass." If you do not pass the CPA exam sections for which you have purchased Gleim Online, you will receive unlimited continued access to Gleim Online until you pass.
Why Gleim? If you've been out of school for a number of years and want access to a personal counselor throughout your studies, Gleim is the right fit for you.
Best CPA Review Course Discount Codes
Check out our list of CPA exam promo codes to get the best deal on these great Certified Public Accountant review courses. Don't pay full price when you can use these CPA discounts—we work closely with the best CPA review course providers to give you value with the best possible promo codes!
What is The Best CPA Review Course in 2021?
2021's Best CPA Study Materials Compared
| | |
| --- | --- |
| CPA Review Course | Ideal For.. |
| Roger CPA Review | Structured auditory learner who needs to keep motivated |
| Surgent CPA Review | Students who want to study at their own pace |
| Wiley CPAexcel | Self-studier with busy schedule and little time to study |
| Yaeger CPA Review | Visual learners who want step-by-step explanations |
| Gleim CPA Review | Dedicated self-studier |
| Fast Forward Academy | Self-studier who focuses on weaknesses |
| Becker CPA Review | Dedicated self-studier who needs flexibility in schedules |