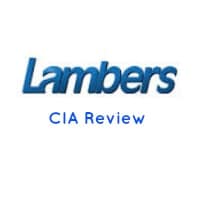 Kurso Taksado: ★★★★★
Lambers has been active in the test prep industry since 1966 and offers review courses for a variety of accounting courses.
Lambers CIA Review uses case studies and examples to help students understand, remember, and apply what they learn. Their course aims to make studying more efficient by only including subject matter that is the most relevant and likely to show up on the CIA exam. Busy professionals today have no time to waste studying material that is unlikely to be tested on, so Lambers helps you study only what you need to know to pass.
avantaĝojn
Lambers CIAa revizio inkluzivas super 60 hours of training videos that cover information for all 3 Partoj de la ekzameno. The review material for each part of the exam comes either as a video series or as downloadable iPod DVD lessons, and an associated workbook. Each lesson lasts approximately one hour in an effort to avoid overwhelming students with too much material at once. The video lessons are taught by experienced instructors and filmed inside a classroom.
The recorded lectures offer an advantage over courses that provide students with textbooks and expect students to teach themselves the material. Students can watch hundreds of problems being solved step by step, and can pause the recording to take notes or rewind and replay specific sections as needed.
A set of textbooks including hundreds of test questions, examples, and outlines accompanies the Video/DVD lectures. Each workbook is designed to be straightforward and to help students maximize retention of the most important information that is likely to appear on the exam.
3. Supplemental Audio Review
Lambers Audio Courseware can be used as a convenient study supplement when you are out and about. Designed for MP3 compatible players, it includes CDs to download to your computer to be synced with iPods or MP3 portable players, training workbooks, practice questions worked out by professors, and current, up-to-date courseware. Audio sample disponeblas sur la Lambers retejo.
4. Tri Adapta Testo Modoj
La Testo Prep Programaro inkludas tri apartajn testado modoj kiuj adaptas al via nuna nivelo de uzkapablo. La Pretest Maniero donas ekzamenon kandidatoj pli bonan komprenon de kiom ili jam scias kaj kiun areoj ili bezonos ekzercu sur. Tio evitas devi revizii materialo vi jam scias kaj permesas vin koncentri sur via malforta areoj.
La Adaptive Borila Maniero helpas studentojn koncentri kaj bori la materialon ĝis ĝi batas. Se vi trovas koncepton #a? demandon vi surmetas?? Komprenas, this mode gives you access to more thorough explanations and provides links to more information that will help you learn and understand them better.
Unufoje vi??E majstris viajn malfortojn, it's time to work on your test-taking skills and build confidence with the #?Ajniga Maniero. The simulated exam mode dials up the pressure by giving students more difficult questions in a format that appears more similar to what they will encounter on the actual CIA exam.
Lambers offers a "No Pass No Pay Guarantee" kiu promesas repagon por tiuj kiuj malsukcesas la ekzamenon dufoje post uzante liaj produktoj. Bonvolu vidi la Lambers retejo por la specifaj kondiĉoj kiuj devas plenumi por kvalifiki por repagon.
TROMPOJ
La plej granda malavantaĝo de Lambers' CIA Review estas ĝia supermezura prezo. Ĉe $1,800 cxar nur la DVD kaj la Testo Prep Programaro por ĉiuj tri partoj de la ekzameno, tiu revizio kurson kostoj 3 al 4 tempoj tiel kiel konkurantoj' opcioj, kaj ekzistas neniu rabato por aĉeti studo materialoj por ĉiuj 3 partoj de la ekzameno kiel pakaĵo.
Ĉiu plia karakterizaĵo estas alprezigita aparte, kaj estas relative multekosta. Ekzemple, la audio revizio kurso por ĉiuj tri partoj de la ekzameno starigos vin per $700, la flashcards kostis pliajn $500, kaj la "Demandu La Fakulo" Servo trokarigita ĉe $300, donita ke ĝi estas esence vojo akiri viajn demandojn respondis retpoŝte kunlaborantaro. Konstrui kompletan kurson por havi aliron al ĉiuj aŭ eĉ la plej multaj el la trajtoj rezultas esti multekosta propozicio.
Informo sur la Lambers retejo devenas de la CIA ekzameno la ŝanĝo en 2013, donante la impreson ke Lambers ne ĝisdatigi lian kompania retejo kun la plej lastaj kaj gravaj informoj koncerne la CIA ekzameno. La kurso panelo ankaŭ malmoderna kaj povus profitigi de pli nova kaj pli stiligita dezajno.
Lambers DVD lecionoj estas bona taŭga por aŭdovidaj lernantoj kiuj preferas ne instrui mem la materialo el lernolibro. Few other review courses offer lectures or demonstrate how to work out problems, so students who need additional guidance will benefit most.
The tips and tricks offered in this course are a nice bonus because they show you where you should focus your time and energy. Lambers prides itself on sticking to the most commonly tested concepts and steering students away from irrelevant material to save time by memorizing only the most pertinent information for the exam.
La plej konvinka kialo por akompani Lambers CIA Review estas la aliro al la instru DVD. La plimulto de enreta revizio kursoj havigi studentoj kun lernolibroj, ekzercokajeroj Tio praktiko demandoj, sed maltrafis kiam temas prezenti la materialon en prelego formato.
Aliflanke, Lambers' Kompreneble simple ne proponas sufiĉa valoro aŭ karakterizaĵoj pravigi iliajn ekstreme alta preza etikedo. Students who don't need the DVD lectures to succeed would do well to investigate other CIA course options before spending this much money on a review course.
DVD classroom lectures in MP4 Format
Online or CD-Based classroom lectures
Adaptive Test Prep Software with 3,100+ Praktikaj demandoj, answers and explanations
Electronic Flashcards
Supplementary Audio course material for MP3 players
Reference Workbooks for study and practice
"Demandu La Fakulo" Service for additional support via email
Alpreziganta
Lambers DVD iPod Course
Prezo: $299.95 for Part 1 or Part 2; $599.95 for Part 3
Inkluzivas: Set of recorded classroom lectures in MP4 format taught by professor Garland Granger, MBA, CPA, CIA.
Lambers Video Courseware CIA
Prezo: $299.95 for Part 1 or Part 2; $599.95 for Part 3
Inkluzivas: Set of recorded classroom lectures available online or in CD-based format taught by professor Garland Granger, MBA, CPA, CIA.
Lambers Test Prep Software
Prezo: $149.95 for Part 1 or Part 2; $299.95 for Part 3
Inkluzivas: Online or CD-based test prep software containing more than 3,100 Praktikaj demandoj, answers and explanations, hyperlinks to the Wiley CIA Review textbook, and free updates.
Lambers Flash Cards
Prezo: $124.95 for Part 1 or Part 2 Flash Trainer; $249.95 for Part 3
Inkluzivas: Electronic flashcards containing of 169 key terms, formulas and definitions, including monitoring and feedback of your performance. Flash cards may also be printed out.
Lambers Audio CIA
Prezo: $199.95 for Part 1 or Part 2; $299.95 for Part 3
Inkluzivas: Supplemental audio courseware designed for any MP3 compatible player that includes downloadable CDs to sync with iPod or MP3 player, workbooks used by course professors during training, and recordings of professors working out hundreds of problems and questions.
Lambers "Demandu La Fakulo" Service for CIA
Prezo: $299.95
Inkluzivas:
Individual support via email from a Lambers subject matter expert to answer your specific questions and provide guidance.
To compare Lambers CIA Review to other prep courses, Bonvolu klaki la butonon sub.
Lambers CIA Breakdown
| | |
| --- | --- |
| Lambers CIAa Revizio | Strengths |
| 1. | Course DVDs |
| 2. | Workbook Fiksita |
| 3. | Supplemental Audio Review |
| 4. | Tri Adapta Testo Modoj |
| 5. | Money Back Guarantee |
Resumo
Reviewer
Review Date
Reviewed Item
Author Rating