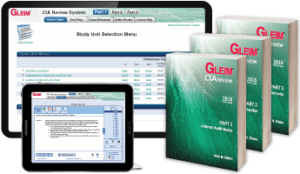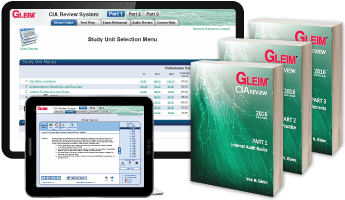 Whakatauranga akoranga:
★★★★★
Gleim CIA Arotake
is one of the most popular CIA review courses on the market. Students have praised this extensive self-study course, which comes with an assigned personal counselor to help you through the entire CIA exam process. The comprehensive study materials, an option to buy materials separately or as a package, performance tracking, and money back guarantee, all make this course a very attractive option.
AtAKi
Pūmanawa whakamātautau online o Gleim ngā runga i 3,000 pātai kōwhiringa maha. Students can use the large test bank to create custom practice tests. pātai Practice i runga i whakamātautau taea te tātarihia e maha, me te momo, a ka taea e koe te whiriwhiri ki te aukati pātai kua mahi koe i runga i mua. E āwhina ana tēnei ape i te wā moni i runga i te taua uiraa kua whakahoki kē koe i roto i te manako o te arotahi ki te hunga kahore i kite koe ranei hiahia ki te mahi. Kei ngā ano whakamārama Taipitopito mō rua whakautu tika, me te hē.
4. Wātea i roto i te Spanish
Students planning to take the exam in Spanish will be happy to know that Gleim offers its study materials in Spanish as well. There is no need to translate the practice questions into Spanish in your head or struggle with a language barrier, as everything has been translated for you already! You will be able to see the practice questions in both English and Spanish.
5. Choose Study or Exam Mode
In the Study Session mode, you can choose how many questions to include on your practice exam. This is useful if you don't have much time to study because you can fit in a quick session on your lunch break or before work. In study mode, your answers will be graded immediately and you'll get an explanation of why your answer was correct or incorrect. When you start to feel more confident about a section, you can switch over to the Practice Exam mode, which simulates the actual exam environment. Just as on the real CIA exam, the answers will not be revealed until you have completed all of the questions.
The Exam Rehearsal mode offers the chance to prepare with a computerized test that is almost identical to the actual CIA exam. It should be taken at least one week before your real exam date, during your final review. simulates te reira i te taiao whakamātautau tūturu mā te tae 100 multiple-choice questions that must be answered in 3.5 haora. You'll be able to practice your time-management skills while testing yourself on the content of the exam.
If you are not satisfied with the Gleim CIA Review course you can return it for a full refund (iti utu kaipuke). Or you can take advantage of their Replacement Guarantee or the Continued Access Guarantee. It is obvious that Gleim is investing in satisfied customers who will pass the CIA exam on their first attempt. For more details and eligibility requirements for the various guarantees,
pāwhiritia koa ki konei
.
Gleim currently offers Crush readers a 5% discount on all their CIA study materials. Be sure to take advantage of this discount if you go with Gleim!
Haere 5% OFF Gleim CIA Review
Raruraru
1. Price / No Savings on Most Packages
Unless you are planning to buy the Gleim Premium CIA Review System with all components ($849), buying the study materials for all three parts of the exam together in a bundle won't save you much (or anything) compared to buying the separate components of the program. With our additional discount, you'll save an extra $42 if you plan to buy the entire Premium CIA Review program with everything included, but students interested only in the online review course would do better to buy prep materials for one part of the exam at a time to see how well it fits their needs and prepares them.
The Gleim CIA audio review is great for people who are constantly on-the-go. Each clip is approximately 30-minutes long and covers a different study unit. The audio is compatible with most portable music devices and smart phones, allowing candidates to study while at the gym, during their daily commute to work, and other less traditional study times. For more information about Gleim's
audio review course click here
. The program's flexibility allows students to buy study materials for just one part of the exam at a time, or they can purchase the entire course for slight savings. Self-motivated learners will do best with this program – even though you are assigned a personal counsellor to answer questions and help you design a study plan, this is not a traditional assignment with live lectures, deadlines or peer interaction.
Gleim is the most comprehensive CIA online review course on the market and is a great fit for anyone who is serious about passing all 3 parts of the exam on the first try. The personal counsellors assigned to each student are one of the biggest strengths of Gleim's program. Students who have taken Gleim's courses recommend the practice questions and report that the material prepared them well for the actual exam.
Ko te take i tautokona to ratou akoranga e te Guarantee Money Hoki, he Guarantee Whakakapinga, and an Online Access Guarantee demonstrate Gleim's commitment to their products and their desire for their clients to succeed on the CIA exam. Download one of Gleim's FREE Demos and check it out for yourself. This could be the most important decision you make in your journey to crush the CIA exam!
GO KI Gleim CIA REVIEW!
Whakarāpopototanga o Ngā Āhuatanga Course
Interactive Review Sections for Part 1, 2, a 3 o te whakamātautau CIA
Large Test Question Bank (3,000+ pātai)
Whakamātautau Practice Unlimited
Interactive Study Planer
Tauturu Whaiaro
Digital Books with Outlines, Examples, Audiovisual Lectures
Audio Review Lectures for Download/Streaming
Final Exam Rehearsal™
Pricing
Gleim Premium CIA Review System Package (Kei Wāhanga 1, 2 a 3)
Price:
$849
Kei:
Unlimited access until you pass to Gleim's Premium online self-study review course (2016 edition), unlimited practice exams, exam-emulating test bank and quizzes, personal counselor, interactive Study Planner, digital book with comprehensive outlines, examples and audiovisual lectures. Also includes Gleim CIA Test Prep, Audio Lectures (2017 edition), and Exam Rehearsal™ and free Gleim bookbag.
Price for Part 1 ranei 2 only: $299
Price for Part 3 only: $339
Gleim Traditional CIA Review Online (Kei Wāhanga 1, 2 a 3)
Price:
$799
Kei:
Gleim's Traditional online self-study review course (2016 edition) comes with an interactive study planner, Audio Lectures (2017 edition) mahi pātai, Gleim digital books containing comprehensive outlines and examples, and your own personal counselor, all until you pass.
Price for Part 1 ranei 2 only: $279
Price for Part 3 only: $319
Gleim CIA Parts 1,2,3 (Books & Test Prep)
Total Price:
$447
Kei:
18-month access to one of the most widely used question banks on the market. CIA Exam questions released by The IIA and books (kōwhiringa).
Price for Part 1 – Basics Tātari ā- (Book & Test Prep) only: $139
Price for Part 2 – Practice Tātari ā- (Book & Test Prep) only: $139
Price for Part 3 –

Huānga Knowledge ā-Tātari (Book & Test Prep)

only: $169
GO KI Gleim CIA REVIEW!
Gleim CIA Review Course Info
| | |
| --- | --- |
| Gleim CIA Arotake | Strengths |
| 1. | Personal Counselors & Accessibility |
| 2. | Nui Pātai Bank |
| 3. | 5% Off Discount Code |
| 4. | Wātea i roto i te Spanish |
| 5. | Pass Guarantees |
Summary
Reviewer
Takahia iho ano hoki te Exam CIA
Review Date
Reviewed Item
Author Rating