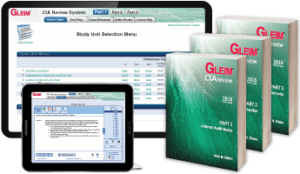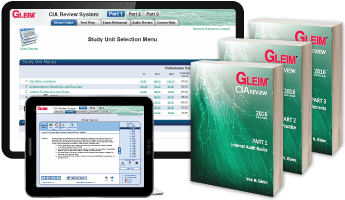 Course Rating:
★★★★★
Gleim Review CIA
is one of the most popular CIA review courses on the market. Students have praised this extensive self-study course, which comes with an assigned personal counselor to help you through the entire CIA exam process. The comprehensive study materials, ny safidy hividy fitaovana manokana na ho toy ny fonosana, fampisehoana ampy, ary ny vola indray antoka, Mazava ho azy fa manao izany rehetra tena tsara tarehy safidy.
Mahatsara
Gleim ny aterineto dia ahitana ny rindrambaiko fanandramana 3,000 safidy maro fanontaniana. Students can use the large test bank to create custom practice tests. Practice questions on tests can be filtered by number and type, and you can choose to exclude questions you have worked on previously. This helps avoid spending time on the same questions you've already answered in favor of focusing on those you haven't seen or need to practice. Detailed explanations for both correct and incorrect answers are also included.
Students planning to take the exam in Spanish will be happy to know that Gleim offers its study materials in Spanish as well. There is no need to translate the practice questions into Spanish in your head or struggle with a language barrier, as everything has been translated for you already! You will be able to see the practice questions in both English and Spanish.
5. Fidio Fianarana na ny Exam Mode
Ao amin'ny Fianarana Session fomba, you can choose how many questions to include on your practice exam. Izany no mahasoa raha tsy manana fotoana be ny mianatra satria afaka antonona tao amin'ny fivoriana haingana eo amin'ny sakafo antoandro na alohan'ny fiatoana asa. In fianarana maody, ny valin-teninao dia graded avy hatrany ka ianao hahazo fanazavana mikasika ny antony mahatonga ny valin-teninao dia marina na diso. Rehefa manomboka mahatsapa matoky kokoa momba ny fizarana, dia afaka mifamadika eo ny ho zatra Exam fomba, izay simulates ny tena fanadinana tontolo iainana. Toy ny tena CIA fanadinana, ny valiny dia tsy haseho mandra-vita rehetra, ny fanontaniana.
6. Review fanadinana farany
Ny fomba famerenana Exam manolotra ny fahafahana mba hanomana amin'ny ordinatera fitsapana izay saika mitovy amin'ny tena CIA fanadinana. Tokony horaisina iray, fara fahakeliny herinandro eo anoloan'ny tena fanadinana daty, nandritra ny famerenana farany. Izany simulates ny tena fanadinana tontolo iainana amin'ny alalan'ny anisan'izany 100 maro-voafantina fanontaniana izay tsy maintsy namaly in 3.5 ora. You'll be able to practice your time-management skills while testing yourself on the content of the exam.
If you are not satisfied with the Gleim CIA Review course you can return it for a full refund (tsy fandefasana vola). Or you can take advantage of their Replacement Guarantee or the Continued Access Guarantee. It is obvious that Gleim is investing in satisfied customers who will pass the CIA exam on their first attempt. For more details and eligibility requirements for the various guarantees,
tsindrio eto
.
Gleim currently offers Crush readers a 5% discount on all their CIA study materials. Be sure to take advantage of this discount if you go with Gleim!
Get 5% OFF Gleim CIA Review
Maharatsy ny mifampiresaka
1. Price / No Savings on Most Packages
Unless you are planning to buy the Gleim Premium CIA Review System with all components ($849), buying the study materials for all three parts of the exam together in a bundle won't save you much (or anything) compared to buying the separate components of the program. With our additional discount, you'll save an extra $42 Raha mikasa ny hividy ny manontolo CIA Premium Review fandaharana amin'ny zava-drehetra tafiditra, fa ny mpianatra liana afa-tsy ny famerenana an-tserasera Mazava ho azy fa hanao tsara kokoa mba hividy fitaovana ho an'ny iray Prep ampahany amin'ny fanadinana amin'ny fotoana ny mahita ny fomba mifanentana tsara izany ny zavatra ilaina ary manomana azy ireo.
The Gleim CIA audio review is great for people who are constantly on-the-go. Each clip is approximately 30-minutes long and covers a different study unit. Ny feo dia mifanaraka amin'ny ankamaroan'ny hira fitaovana azo entina sy marani-tsaina finday, allowing candidates to study while at the gym, during their daily commute to work, and other less traditional study times. For more information about Gleim's
audio review course click here
. The program's flexibility allows students to buy study materials for just one part of the exam at a time, or they can purchase the entire course for slight savings. Self-motivated learners will do best with this program – even though you are assigned a personal counsellor to answer questions and help you design a study plan, this is not a traditional assignment with live lectures, deadlines or peer interaction.
Gleim is the most comprehensive CIA online review course on the market and is a great fit for anyone who is serious about passing all 3 parts of the exam on the first try. The personal counsellors assigned to each student are one of the biggest strengths of Gleim's program. Students who have taken Gleim's courses recommend the practice questions and report that the material prepared them well for the actual exam.
Ny hoe ny Mazava ho azy fa dia tsy maintsy hiatrika ny vola iray Back Guarantee, ny Replacement Guarantee, and an Online Access Guarantee demonstrate Gleim's commitment to their products and their desire for their clients to succeed on the CIA exam. Download one of Gleim's FREE Demos and check it out for yourself. This could be the most important decision you make in your journey to crush the CIA exam!
GO TO GLEIM CIA REVIEW!
Famintinana ny Course Features
Interactive Review Sections for Part 1, 2, ary 3 ny CIA fanadinana
Large Test Question Bank (3,000+ fanontaniana)
Tsy manam-petra Practice fanadinana
Interactive Study Planer
Mpanolotsaina manokana
Digital Books with Outlines, Examples, Audiovisual Lectures
Audio Review Lectures for Download/Streaming
Final Exam Rehearsal™
Pricing
Gleim Premium CIA Review System Package (Dia ahitana Parts 1, 2 ary 3)
Price:
$849
Dia ahitana:
Unlimited access until you pass to Gleim's Premium online self-study review course (2016 edition), unlimited practice exams, exam-emulating test bank and quizzes, personal counselor, interactive Study Planner, digital book with comprehensive outlines, examples and audiovisual lectures. Also includes Gleim CIA Test Prep, Audio Lectures (2017 edition), and Exam Rehearsal™ and free Gleim bookbag.
Price for Part 1 na 2 only: $299
Price for Part 3 only: $339
Gleim Traditional CIA Review Online (Dia ahitana Parts 1, 2 ary 3)
Price:
$799
Dia ahitana:
Gleim's Traditional online self-study review course (2016 edition) comes with an interactive study planner, Audio Lectures (2017 edition) fomba fanao fanontaniana, Gleim digital books containing comprehensive outlines and examples, and your own personal counselor, all until you pass.
Price for Part 1 na 2 only: $279
Price for Part 3 only: $319
Gleim CIA Parts 1,2,3 (Books & Test Prep)
Total Price:
$447
Dia ahitana:
18-month access to one of the most widely used question banks on the market. CIA Exam questions released by The IIA and books (tsy voatery).
Price for Part 1 – Hanaraha-maso anatiny Basics (Book & Test Prep) only: $139
Price for Part 2 – Hanaraha-maso anatiny Practice (Book & Test Prep) only: $139
Price for Part 3 –

Ireo singa Knowledge Hanaraha-maso anatiny (Book & Test Prep)

only: $169
GO TO GLEIM CIA REVIEW!
Gleim CIA Review Course Info
| | |
| --- | --- |
| Gleim Review CIA | Strengths |
| 1. | Personal ny mpanolo-tsaina & Accessibility |
| 2. | Large Question Bank |
| 3. | 5% Off Discount Code |
| 4. | Available in Spanish |
| 5. | Pass Guarantees |
Summary
Reviewer
Review Date
Reviewed Item
Author Rating