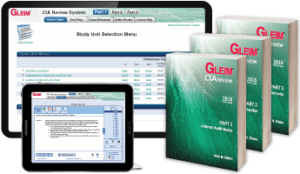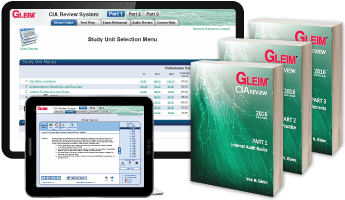 natierlech zu Enn: ★★★★★
GLEIM CIA Kritik is one of the most popular CIA review courses on the market. Students have praised this extensive self-study course, which comes with an assigned personal counselor to help you through the entire CIA exam process.
The comprehensive study materials, an option to buy materials separately or as a package, performance tracking, and money back guarantee, all make this course a very attractive option.
matbréngen
1. Personal Counselors & Accessibility
You won't need to pay for a tutor because your very own counselor is built into the course. Right from the start, your counselor will help you create a study plan based on your schedule, current situation and background. Whether you have questions about the CIA exam process or the study materials, you can turn to your counselor or the expert accounting staff at Gleim. Contact them by phone, email, or consult the Q&A message board for answers to commonly asked questions.
2. Large Question Bank
Gleim's online test software includes over 3,000 multiple choice questions. Students can use the large test bank to create custom practice tests. Practice questions on tests can be filtered by number and type, and you can choose to exclude questions you have worked on previously. This helps avoid spending time on the same questions you've already answered in favor of focusing on those you haven't seen or need to practice. Detailed explanations for both correct and incorrect answers are also included.
3. Performance Analysis
Gleim helps you identify and focus on your weak areas so you don't spend more time than necessary preparing for your next CIA exam. The software comes with detailed analytics that track your performance as you progress through the course. Struggling with a particular section? You can keep retaking the same questions until you master that type. The software tracks your most recent attempt, the average of your last 3 attempts, and your cumulative average. You can also follow your progress in the Performance Graphs section, which shows a snapshot of your performance so far.
4. Available in Spanish
Students planning to take the exam in Spanish will be happy to know that Gleim offers its study materials in Spanish as well. Et ass net néideg d'Praxis Froen an Spuenesch zu Äre Kapp oder amgaangen mat enger Sprooch Barriär ze iwwersetzen, wéi alles fir Iech ass schon iwwersat! Dir wäert kënnen d'Praxis Froen an zwee englesch a spuenesch ze gesinn.
5. Wielt Studéiert oder Prüfungen Mode
An der Sécuritéit Sessioun Modus, you can choose how many questions to include on your practice exam. Dat ass virun allem nëtzlech wann dir do net vill Zäit hunn, ze studéieren, well Dir vun engem séiere Sëtzung op Är Mëttespaus oder ier Aarbecht fit kënnen. An Etude Modus, your answers will be graded immediately and you'll get an explanation of why your answer was correct or incorrect.
When you start to feel more confident about a section, you can switch over to the Practice Exam mode, which simulates the actual exam environment. Just as on the real CIA exam, the answers will not be revealed until you have completed all of the questions.
6. Final Exam Review
The Exam Rehearsal mode offers the chance to prepare with a computerized test that is almost identical to the actual CIA exam. It should be taken at least one week before your real exam date, during your final review. It simulates the actual exam environment by including 100 multiple-choice questions that must be answered in 3.5 hours. You'll be able to practice your time-management skills while testing yourself on the content of the exam.
7. Pass Guarantees
If you are not satisfied with the Gleim CIA Review course you can return it for a full refund (less shipping costs). Or you can take advantage of their Replacement Guarantee or the Continued Access Guarantee. It is obvious that Gleim is investing in satisfied customers who will pass the CIA exam on their first attempt. For more details and eligibility requirements for the various guarantees, please click here.
8. Reduktiounen
Gleim currently offers Crush readers a 5% discount on all their CIA study materials. Be sure to take advantage of this discount if you go with Gleim!
kréien 5% OFF Gleim CIA Review
scheinbar
1. Präis / No Savings on Most Packages
Ausser Dir sidd Planung der GLEIM Premium CIA Kritik System mat all Deeler ze kafen ($849), der Etude Material kafen fir all dräi Deeler vun den Examen zesummen zu engem Bouquet wäert Dir vill net retten (oder eppes) Verglach zu der separater Komponente vun der Programm kaaft. Mat eise zousätzlech Remise, Dir wäert eng extra retten $42 wann Dir Plan de ganze Premium CIA Kritik Programm mat alles ze kafen abegraff, but students interested only in the online review course would do better to buy prep materials for one part of the exam at a time to see how well it fits their needs and prepares them.
ideal Benotzerkont
The Gleim CIA audio review is great for people who are constantly on-the-go. Each clip is approximately 30-minutes long and covers a different study unit. The audio is compatible with most portable music devices and smart phones, allowing candidates to study while at the gym, during their daily commute to work, and other less traditional study times. For more information about Gleim's audio review course click here.
The program's flexibility allows students to buy study materials for just one part of the exam at a time, or they can purchase the entire course for a slight savings. Self-motivated learners will do best with this program – even though you are assigned a personal counselor to answer questions and help you design a study plan, this is not a traditional assignment with live lectures, deadlines or peer interaction.
meng Beispiller
Gleim is the most comprehensive CIA online review course on the market and is a great fit for anyone who is serious about passing all 3 parts of the exam on the first try. The personal counselors assigned to each student are one of the biggest strengths of Gleim's program. Students who have taken Gleim's courses recommend the practice questions and report that the material prepared them well for the actual exam.
The fact that their course is backed by a Money Back Guarantee, Ersatz Garantie, an engem Online Access Garantie Sarkasmus GLEIM d'Engagement fir hir Produkter an hir Wonsch fir hir Clienten op der CIA Examen ze packen. Download eent vun GLEIM d' GRATIS Demos and check it out for yourself. Dëst kéint d'wichtegst Decisioun Dir an Är Rees maachen de CIA examen ze z'erstécken!
Resumé natierlech BIG
Interaktiven Kritik Moment fir Part 1, 2, an 3 vun der CIA Examen
Grouss Test Question Bank (3,000+ Froen)
Onlimitéiert herno Premièresexamen
Interaktiven Sécuritéit Hill
perséinlech Beroder
Digital Books with Outlines, Examples, Audiovisual Lectures
Audio Review Lectures for Download/Streaming
Final Exam Rehearsal™
Tarifikatioun
Gleim Premium CIA Review System Package (ëmfaasst Parts 1, 2 an 3)
Präis: $849
gehéieren: Unlimited access until you pass to Gleim's Premium online self-study review course (2016 edition), unlimited practice exams, exam-emulating test bank and quizzes, personal counselor, interactive Study Planner, digital book with comprehensive outlines, examples and audiovisual lectures. Also includes Gleim CIA Test Prep, Audio Kanton (2017 edition), an examen Schwed ™ a gratis GLEIM bookbag.
Präis fir Part 1 oder 2 nëmmen: $299
Präis fir Part 3 nëmmen: $339
GLEIM klassesch CIA Kritik Online (ëmfaasst Parts 1, 2 an 3)
Präis: $799
gehéieren: GLEIM d'klassesch online Self-Etude review natierlech (2016 edition) kënnt mat engem interaktiven Etude Stadplaner, Audio Kanton (2017 edition) Praxis Froen, GLEIM digital Bicher mat ëmfaassend Jugendrechter a Beispiller, an Äre perséinleche Conseiller, all until you pass.
Präis fir Part 1 oder 2 nëmmen: $279
Präis fir Part 3 nëmmen: $319
GLEIM CIA Parts 1,2,3 (Bicher & Test Ëmfro)
Gesamtpräis: $447
gehéieren: 18-month access to one of the most widely used question banks on the market. CIA Examen Froen vun der IIA a Bicher verëffentlecht (optional).
Präis fir Part 1 – Intern Audit Basics (Book & Test Ëmfro) nëmmen: $139
Präis fir Part 2 – Internal Audit Practice (Book & Test Ëmfro) nëmmen: $139
Präis fir Part 3 –

Internal Audit Knowledge Elements (Book & Test Ëmfro)

nëmmen: $169
Gleim CIA Review Course Info
| | |
| --- | --- |
| GLEIM CIA Kritik | Strengths |
| 1. | Personal Counselors & Accessibility |
| 2. | Large Question Bank |
| 3. | 5% Off Discount Code |
| 4. | Available in Spanish |
| 5. | Pass Guarantees |
Summary
Reviewer
Review Date
Reviewed Item
Author Rating