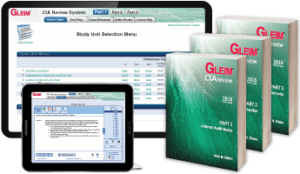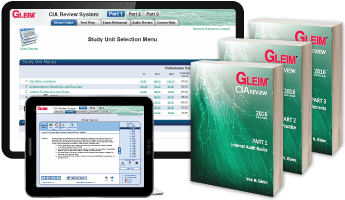 Сабактын маалымат Рейтинг: ★★★★★
Gleim CIA Review is one of the most popular CIA review courses on the market. Students have praised this extensive self-study course, which comes with an assigned personal counselor to help you through the entire CIA exam process.
The comprehensive study materials, an option to buy materials separately or as a package, performance tracking, and money back guarantee, all make this course a very attractive option.
жакшы
1. Personal Counselors & Accessibility
You won't need to pay for a tutor because your very own counselor is built into the course. Right from the start, your counselor will help you create a study plan based on your schedule, current situation and background. Whether you have questions about the CIA exam process or the study materials, you can turn to your counselor or the expert accounting staff at Gleim. Contact them by phone, email, or consult the Q&A message board for answers to commonly asked questions.
2. Large Question Bank
Gleim's online test software includes over 3,000 бир нече суроолор. Students can use the large test bank to create custom practice tests. Practice questions on tests can be filtered by number and type, and you can choose to exclude questions you have worked on previously. This helps avoid spending time on the same questions you've already answered in favor of focusing on those you haven't seen or need to practice. Detailed explanations for both correct and incorrect answers are also included.
3. Performance Analysis
Gleim helps you identify and focus on your weak areas so you don't spend more time than necessary preparing for your next CIA exam. The software comes with detailed analytics that track your performance as you progress through the course. Struggling with a particular section? You can keep retaking the same questions until you master that type. The software tracks your most recent attempt, Сиздин акыркы орточо 3 аракети, жана чогуу алгандагы орточо. You can also follow your progress in the Performance Graphs section, Бул көрсөтүүдө сиздин аткаруунун жаратуу ушунчалык алыс.
4. Испан тилдеринде
Испан тилинде экзамен алып пландап студенттер Gleim, ошондой эле испан, анын изилдөө материалдарды сунуштап жатканын билүү үчүн бактылуу болот. башына испан тилине практикалык суроолорду которууга же тил тосмо менен күрөшүп эч кандай кажети жок, сен үчүн баары которулду деп! You will be able to see the practice questions in both English and Spanish.
5. Choose Study or Exam Mode
In the Study Session mode, you can choose how many questions to include on your practice exam. This is useful if you don't have much time to study because you can fit in a quick session on your lunch break or before work. In study mode, your answers will be graded immediately and you'll get an explanation of why your answer was correct or incorrect.
When you start to feel more confident about a section, you can switch over to the Practice Exam mode, which simulates the actual exam environment. Just as on the real CIA exam, the answers will not be revealed until you have completed all of the questions.
6. Final Exam Review
The Exam Rehearsal mode offers the chance to prepare with a computerized test that is almost identical to the actual CIA exam. It should be taken at least one week before your real exam date, during your final review. It simulates the actual exam environment by including 100 бир нече жоопту тандоо жооп керек 3.5 саат. Сиз экзамен мазмуну боюнча текшерүүгө, ал эми убакыт-башкаруу көндүмдөрүн иш жүзүндө аласыз.
7. өтүп кепилдиктер
Сиз Gleim CIA Review албетте менен жакпай калса, сиз толук төлөп берүү үчүн ага кайтарып бере алабыз (жеткирүү чыгымдарды аз). Же алардын алмаштыруу камсыз кылуу же улантуу мүмкүнчүлүгү камсыз кылуу кызматы менен колдоно алат. Бул алардын биринчи аракети боюнча CIA экзамен берет Gleim ким ыраазы кардарлар салуу экени айдан ачык. For more details and eligibility requirements for the various guarantees, please click here.
8. арзандатуулар
Gleim currently offers Crush readers a 5% discount on all their CIA study materials. Be sure to take advantage of this discount if you go with Gleim!
Cons
1. баа / No Savings on Most Packages
Unless you are planning to buy the Gleim Premium CIA Review System with all components ($849), buying the study materials for all three parts of the exam together in a bundle won't save you much (or anything) compared to buying the separate components of the program. With our additional discount, you'll save an extra $42 if you plan to buy the entire Premium CIA Review program with everything included, but students interested only in the online review course would do better to buy prep materials for one part of the exam at a time to see how well it fits their needs and prepares them.
Ideal Өздүк
The Gleim CIA audio review is great for people who are constantly on-the-go. Each clip is approximately 30-minutes long and covers a different study unit. The audio is compatible with most portable music devices and smart phones, allowing candidates to study while at the gym, during their daily commute to work, and other less traditional study times. For more information about Gleim's audio review course click here.
The program's flexibility allows students to buy study materials for just one part of the exam at a time, or they can purchase the entire course for a slight savings. Өзүн-өзү түрткү окуучулар бул программасы менен жасайт – Эгер суроолорго жооп жана изилдөө планын иштеп чыгуу үчүн жеке Сооротуучуну берилет да,, Бул түз доклад менен салттуу тапшырма эмес,, мөөнөтү же курдаштарынын ара.
Менин сунушум
Gleim рыногунда эн кенири CIA онлайн карап жатат жана баары өтүп жөнүндө олуттуу эч бир туура эмес 3 биринчи аракет боюнча экзаменди бөлүктөрү. The personal counselors assigned to each student are one of the biggest strengths of Gleim's program. Students who have taken Gleim's courses recommend the practice questions and report that the material prepared them well for the actual exam.
The fact that their course is backed by a Money Back Guarantee, a Replacement Guarantee, and an Online Access Guarantee demonstrates Gleim's commitment to their products and their desire for their clients to succeed on the CIA exam. Download one of Gleim's FREE Demos and check it out for yourself. This could be the most important decision you make in your journey to crush the CIA exam!
Сабактын өзгөчөлүктөрү кыскача
Interactive Review Sections for Part 1, 2, жана 3 CIA экзамен
Чоң Test Question банкы (3,000+ суроолор)
Чексиз Practice сынактары
Interactive Изилдөө сүргүнү
жеке Counselor
Пландары менен санариптик Китептер, мисалдар, Audiovisual Сабактар
Download / Т.К. аудио Review Сабактар
Сынак Rehearsal ™
баа
Gleim Premium CIA Review системасы Package (камтыйт тетиктер 1, 2 жана 3)
баа: $849
кирет: Сиз Gleim анын Premium онлайн өз алдынча изилдөө карап чыгуу, албетте, өтө чейин чексиз мүмкүндүк алуу (2016 өзгөртүүлөр жана толуктоолор менен), чексиз практика сынактар, сынак-Алтурсун тест банкка жана зоокторго, жеке консул, өз ара аракеттенүү Изилдөө уюштуруучу, толук контурунун менен санариптик китеп, мисалдар жана аудио дарстар. Ошондой эле Gleim CIA Test Prep кирет, аудио Сабактар (2017 өзгөртүүлөр жана толуктоолор менен), жана сынак Rehearsal ™ жана эркин Gleim bookbag.
Бөлүгү үчүн баасы 1 же 2 гана: $299
Бөлүгү үчүн баасы 3 гана: $339
Gleim салттуу CIA Review Online (камтыйт тетиктер 1, 2 жана 3)
баа: $799
кирет: Gleim анын салттуу онлайн өз алдынча изилдөө карап чыгуу, албетте, (2016 өзгөртүүлөр жана толуктоолор менен) бир ара изилдөө иш менен келет, аудио Сабактар (2017 өзгөртүүлөр жана толуктоолор менен) практика суроолор, Gleim комплекстүү планын жана мисалдарды камтыган санариптик китептер, жана жеке консул, all until you pass.
Бөлүгү үчүн баасы 1 же 2 гана: $279
Бөлүгү үчүн баасы 3 гана: $319
Gleim CIA Parts 1,2,3 (Китептер & Test Prep)
жалпы баа: $447
кирет: 18-month access to one of the most widely used question banks on the market. CIA Exam questions released by The IIA and books (кошумча).
Бөлүгү үчүн баасы 1 – Ички аудит негиздери (Book & Test Prep) гана: $139
Бөлүгү үчүн баасы 2 – Internal Audit Practice (Book & Test Prep) гана: $139
Бөлүгү үчүн баасы 3 –

Internal Audit Knowledge Elements (Book & Test Prep)

гана: $169
Gleim CIA Review Course Info
| | |
| --- | --- |
| Gleim CIA Review | Strengths |
| 1. | Personal Counselors & Accessibility |
| 2. | Large Question Bank |
| 3. | 5% Off Discount Code |
| 4. | Испан тилдеринде |
| 5. | өтүп кепилдиктер |
Summary
Reviewer
Review Date
Reviewed Item
Author Rating