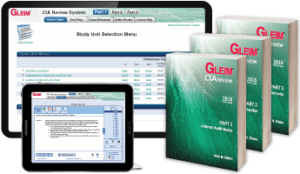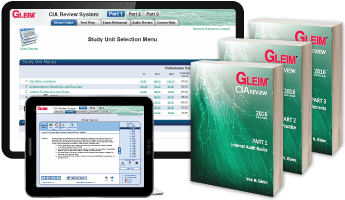 Course Rating: ★★★★★
Gleim CIA Review bụ otu n'ime ndị kasị ewu ewu CIA nyochaa ọmụmụ na ahịa. Ụmụ akwụkwọ eto a buru onwe ọmụmụ, nke-abịa ihe kenyere onye ndụmọdụ na-enyere gị site dum CIA udomo oro usoro.
The keukwu ọmụmụ ihe, otu nhọrọ ịzụta ihe iche iche ma ọ bụ dị ka a ngwugwu, arụmọrụ nsuso, na ego azụ nkwa, niile ime ka a N'ezie a nnọọ mma nhọrọ.
Uru
1. Personal Ndị ndụmọdụ & nchọ
You won't need to pay for a tutor because your very own counselor is built into the course. Right from the start, your counselor will help you create a study plan based on your schedule, current situation and background. Whether you have questions about the CIA exam process or the study materials, you can turn to your counselor or the expert accounting staff at Gleim. Contact them by phone, email, or consult the Q&A ozi osisi maka azịza ọtụtụ jụrụ ajụjụ.
2. Large Ajụjụ Bank
Gleim si online ule software na-agụnye ihe karịrị 3,000 otutu oke ajụjụ. Students can use the large test bank to create custom practice tests. Omume ajụjụ on ule nwere ike ẹdụk site ọnụ ọgụgụ na ụdị, na ị nwere ike họrọ ewepu ajụjụ ị na ọrụ na mbụ. Nke a na-enyere zere iwepụta oge na otu ajụjụ ị na-ama zara na ihu ọma nke na-elekwasị anya ndị ị hụrụ ma ọ bụ mkpa na-eme. Zuru ezu nkọwa maka ma ziri ezi na-ekwesịghị ịdị na-aza na-gụnyere.
3. Ịrụ ọrụ Analysis
Gleim-enyere gị aka ịmata ma lekwasị anya n'ihe unu na-adịghị ike ebe ya ka ị ghara itinye oge ka karịa dị mkpa na-akwadebe maka gị ọzọ CIA udomo oro. The software comes with detailed analytics that track your performance as you progress through the course. Struggling with a particular section? You can keep retaking the same questions until you master that type. The software tracks your most recent attempt, nkezi ikpeazụ gị 3 mgbalị, gị na cumulative nkezi. You can also follow your progress in the Performance Graphs section, which shows a snapshot of your performance so far.
4. Dị Na Spanish
Students planning to take the exam in Spanish will be happy to know that Gleim offers its study materials in Spanish as well. There is no need to translate the practice questions into Spanish in your head or struggle with a language barrier, as everything has been translated for you already! You will be able to see the practice questions in both English and Spanish.
5. Choose Study or Exam Mode
In the Study Session mode, you can choose how many questions to include on your practice exam. This is useful if you don't have much time to study because you can fit in a quick session on your lunch break or before work. In study mode, your answers will be graded immediately and you'll get an explanation of why your answer was correct or incorrect.
When you start to feel more confident about a section, you can switch over to the Practice Exam mode, which simulates the actual exam environment. Just as on the real CIA exam, the answers will not be revealed until you have completed all of the questions.
6. Final udomo oro Review
The Exam Rehearsal mode offers the chance to prepare with a computerized test that is almost identical to the actual CIA exam. It should be taken at least one week before your real exam date, during your final review. Ọ simulates ahụ n'ezie udomo oro gburugburu ebe obibi site gụnyere 100 multiple-choice questions that must be answered in 3.5 awa. You'll be able to practice your time-management skills while testing yourself on the content of the exam.
7. Pass Guarantees
If you are not satisfied with the Gleim CIA Review course you can return it for a full refund (obere mbupu akwụ ụgwọ). Or you can take advantage of their Replacement Guarantee or the Continued Access Guarantee. It is obvious that Gleim is investing in satisfied customers who will pass the CIA exam on their first attempt. For more details and eligibility requirements for the various guarantees, biko pịa ebe a.
8. Ego
Gleim currently offers Crush readers a 5% discount on all their CIA study materials. Be sure to take advantage of this discount if you go with Gleim!
Ọghọm
1. Ahịa / No Savings on Most Packages
Unless you are planning to buy the Gleim Premium CIA Review System with all components ($849), ịzụ ihe ọmụmụ ihe maka ihe niile atọ n'akụkụ nke udomo oro ọnụ a ùkwù agaghị azọpụta gị nke ukwuu (ma ọ bụ ihe ọ bụla) tụnyere ịzụ ihe iche iche components nke usoro ihe omume. Na anyị ọzọ discount, ị ga-azọpụta onye amara $42 ọ bụrụ na ị na-eme atụmatụ ịzụta dum Premium CIA Review omume na ihe niile gụnyere, ma ụmụ akwụkwọ nwere mmasị nanị na online nyochaa N'ezie ga-eme ka mma ịzụta Prep ihe maka otu akụkụ nke udomo oro na oge ịhụ otú ọma ọ na-adaba ha mkpa ha ma na-akwadebe ha.
Ezigbo User
The Gleim CIA audio review is great for people who are constantly on-the-go. Each clip is approximately 30-minutes long and covers a different study unit. The audio bụ dakọtara na kasị obere music na ngwaọrụ na smart phones, ikwe-aga ime na-amụ mgbe a na-amụ, n'oge ha kwa ụbọchị na-aga aga na-arụ ọrụ, na ndị ọzọ na-erughị omenala amụ ihe. Maka ozi ọzọ banyere Gleim si audio review course click here.
The program's flexibility allows students to buy study materials for just one part of the exam at a time, or they can purchase the entire course for a slight savings. Self-motivated learners will do best with this program – even though you are assigned a personal counselor to answer questions and help you design a study plan, this is not a traditional assignment with live lectures, deadlines or peer interaction.
My Aro
Gleim bụ ihe kasị keukwu CIA online nyochaa N'ezie na ahịa na bụ oké kwesịrị ekwesị n'ihi na onye ọ bụla bụ akwa banyere agafe nile 3 akụkụ nke udomo oro ke akpa agbalị. The onwe onye ndị ndụmọdụ kenyere onye ọ bụla na-amụrụ bụ otu n'ime ndị kasị eme nke Gleim usoro ihe omume. Ụmụ akwụkwọ bụ ndị jiworo Gleim si ọmụmụ nwere ike ikwu na omume ajụjụ na-akọ na ndị a kwadebere ha nke ọma maka ahụ n'ezie udomo oro.
Nke bụ eziokwu na ha na-kụziri site na a Ego Back nkwa, a Nnọchi n'Aka, and an Online Access Guarantee demonstrates Gleim's commitment to their products and their desire for their clients to succeed on the CIA exam. Download one of Gleim's FREE Demos and check it out for yourself. This could be the most important decision you make in your journey to crush the CIA exam!
Nchịkọta nke Agụmakwụkwọ Atụmatụ
Interactive Review Sections for Part 1, 2, na 3 nke CIA udomo oro
Large Test Question Bank (3,000+ questions)
Unlimited Practice ule
Interactive Study Planer
Personal Ndụmọdụ
Digital Books with Outlines, Examples, Audiovisual Lectures
Audio Review Lectures for Download/Streaming
Final Exam Rehearsal™
Ịnye ọnụahịa
Gleim Premium CIA Review System Package (Na-agụnye Parts 1, 2 na 3)
Ahịa: $849
Na-agụnye: Unlimited access until you pass to Gleim's Premium online self-study review course (2016 edition), unlimited practice exams, exam-emulating test bank and quizzes, personal counselor, interactive Study Planner, digital book with comprehensive outlines, examples and audiovisual lectures. Also includes Gleim CIA Test Prep, Audio okwu (2017 edition), and Exam Rehearsal™ and free Gleim bookbag.
Price for Part 1 ma ọ bụ 2 only: $299
Price for Part 3 only: $339
Gleim Traditional CIA Review Online (Na-agụnye Parts 1, 2 na 3)
Ahịa: $799
Na-agụnye: Gleim's Traditional online self-study review course (2016 edition) -abịa na kenkwukorita ọmụmụ planner, Audio okwu (2017 edition) omume ajụjụ, Gleim digital akwụkwọ nwere keukwu ndepụta na ihe atụ, na gị onwe onye ndụmọdụ, all until you pass.
Price for Part 1 ma ọ bụ 2 only: $279
Price for Part 3 only: $319
Gleim CIA Parts 1,2,3 (akwụkwọ & Test Prep)
Total Price: $447
Na-agụnye: 18-month access to one of the most widely used question banks on the market. CIA Exam ajụjụ wepụtara site The IIA na akwụkwọ (nhọrọ).
Price for Part 1 – Esịtidem oditi Basics (Book & Test Prep) only: $139
Price for Part 2 – Esịtidem oditi Practice (Book & Test Prep) only: $139
Price for Part 3 –

Esịtidem oditi Ihe Ọmụma Ihe (Book & Test Prep)

only: $169
Gleim CIA Review Course Info
| | |
| --- | --- |
| Gleim CIA Review | eme nke oma |
| 1. | Personal Ndị ndụmọdụ & nchọ |
| 2. | Large Ajụjụ Bank |
| 3. | 5% Off Discount Code |
| 4. | Dị Na Spanish |
| 5. | Pass Guarantees |
Summary
Reviewer
Review Date
Reviewed Item
Author Rating