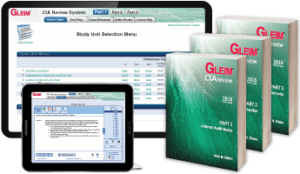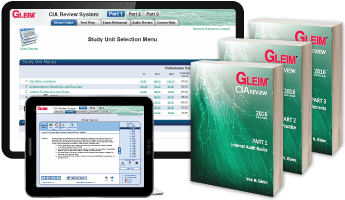 Rátáil Cúrsa: ★★★★★
Gleim Athbhreithniú CIA Is é ceann de na cúrsaí athbhreithnithe mó tóir CIA ar an margadh. Mic léinn a bheith moladh an cúrsa fairsing féin-staidéar ar, which comes with an assigned personal counselor to help you through the entire CIA exam process.
The comprehensive study materials, an option to buy materials separately or as a package, performance tracking, and money back guarantee, all make this course a very attractive option.
PROS
1. Personal Counselors & Accessibility
You won't need to pay for a tutor because your very own counselor is built into the course. Right from the start, your counselor will help you create a study plan based on your schedule, current situation and background. Whether you have questions about the CIA exam process or the study materials, you can turn to your counselor or the expert accounting staff at Gleim. Contact them by phone, email, or consult the Q&Bord teachtaireacht do freagraí ar na ceisteanna coitianta.
2. Large Question Bank
Áirítear bogearraí tástála ar líne Gleim thar 3,000 ceisteanna ilroghnacha. Students can use the large test bank to create custom practice tests. Practice questions on tests can be filtered by number and type, and you can choose to exclude questions you have worked on previously. This helps avoid spending time on the same questions you've already answered in favor of focusing on those you haven't seen or need to practice. Detailed explanations for both correct and incorrect answers are also included.
3. Anailís Feidhmíochta
Gleim helps you identify and focus on your weak areas so you don't spend more time than necessary preparing for your next CIA exam. The software comes with detailed analytics that track your performance as you progress through the course. Struggling with a particular section? You can keep retaking the same questions until you master that type. The software tracks your most recent attempt, an meán de do chuid deiridh 3 iarrachtaí, agus do meán carnach. You can also follow your progress in the Performance Graphs section, which shows a snapshot of your performance so far.
4. Available in Spanish
Students planning to take the exam in Spanish will be happy to know that Gleim offers its study materials in Spanish as well. There is no need to translate the practice questions into Spanish in your head or struggle with a language barrier, as everything has been translated for you already! You will be able to see the practice questions in both English and Spanish.
5. Choose Study or Exam Mode
In the Study Session mode, you can choose how many questions to include on your practice exam. This is useful if you don't have much time to study because you can fit in a quick session on your lunch break or before work. In study mode, your answers will be graded immediately and you'll get an explanation of why your answer was correct or incorrect.
When you start to feel more confident about a section, you can switch over to the Practice Exam mode, which simulates the actual exam environment. Just as on the real CIA exam, the answers will not be revealed until you have completed all of the questions.
6. Athbhreithniú Scrúdaithe Deiridh
The Exam Rehearsal mode offers the chance to prepare with a computerized test that is almost identical to the actual CIA exam. It should be taken at least one week before your real exam date, during your final review. Simulates sé an timpeallacht scrúdú iarbhír trí lena n-áirítear 100 multiple-choice questions that must be answered in 3.5 uaireanta. You'll be able to practice your time-management skills while testing yourself on the content of the exam.
7. Pass Guarantees
If you are not satisfied with the Gleim CIA Review course you can return it for a full refund (costais loingseoireachta lúide). Or you can take advantage of their Replacement Guarantee or the Continued Access Guarantee. It is obvious that Gleim is investing in satisfied customers who will pass the CIA exam on their first attempt. For more details and eligibility requirements for the various guarantees, cliceáil anseo le do thoil.
8. Lascainí
Gleim currently offers Crush readers a 5% discount on all their CIA study materials. Be sure to take advantage of this discount if you go with Gleim!
CONS
1. Praghas / No Savings on Most Packages
Unless you are planning to buy the Gleim Premium CIA Review System with all components ($849), buying the study materials for all three parts of the exam together in a bundle won't save you much (or anything) compared to buying the separate components of the program. With our additional discount, you'll save an extra $42 if you plan to buy the entire Premium CIA Review program with everything included, but students interested only in the online review course would do better to buy prep materials for one part of the exam at a time to see how well it fits their needs and prepares them.
Ideal Úsáideoir
The Gleim CIA audio review is great for people who are constantly on-the-go. Each clip is approximately 30-minutes long and covers a different study unit. The audio is compatible with most portable music devices and smart phones, allowing candidates to study while at the gym, during their daily commute to work, and other less traditional study times. For more information about Gleim's audio review course click here.
The program's flexibility allows students to buy study materials for just one part of the exam at a time, or they can purchase the entire course for a slight savings. Self-motivated learners will do best with this program – even though you are assigned a personal counselor to answer questions and help you design a study plan, this is not a traditional assignment with live lectures, deadlines or peer interaction.
Mo Moltaí
Is Gleim an cúrsa athbhreithnithe ar líne is cuimsithí CIA ar an margadh agus is oiriúnach mór do dhuine ar bith atá dáiríre faoi dul go léir 3 codanna den scrúdú ar an gcéad iarracht. Is iad na comhairleoirí pearsanta a shanntar do gach mac léinn ar cheann de na láidreachtaí is mó de chlár Gleim ar. Mic léinn a bhfuil glacadh cúrsaí Gleim ar mholadh na ceisteanna chleachtas agus tuairisciú a d'ullmhaigh an t-ábhar go maith iad chun an scrúdú iarbhír.
Ar an bhfíric go bhfuil a gcúrsa tacaíocht le Ráthaíocht Ar ais Airgead, Ráthaíocht Athsholáthair, and an Online Access Guarantee demonstrates Gleim's commitment to their products and their desire for their clients to succeed on the CIA exam. Download one of Gleim's FREE Demos and check it out for yourself. This could be the most important decision you make in your journey to crush the CIA exam!
Achoimre ar an Chúrsa Gnéithe
Interactive Review Sections for Part 1, 2, agus 3 den scrúdú CIA
Large Test Question Bank (3,000+ ceisteanna)
Unlimited Scrúduithe Cleachtais
Interactive Study Planer
Counselor pearsanta
Digital Books with Outlines, Examples, Audiovisual Lectures
Audio Review Lectures for Download/Streaming
Scrúdaithe Deiridh ™ Cleachtaidh
Praghsáil
Pacáiste Gleim Préimh Córas Athbhreithnithe CIA (Lena n-áirítear Páirteanna 1, 2 agus 3)
Praghas: $849
Lena n-áirítear: rochtain gan teorainn go dtí go gcuireann tú a cúrsa athbhreithnithe ar líne féin-staidéir Préimh Gleim ar (2016 eagrán), scrúduithe chleachtas neamhtheoranta, scrúdú-aithris bainc tástála agus tráth na gceist, comhairleoir pearsanta, Pleanálaí Staidéar idirghníomhach, leabhar digiteach le cur síos cuimsitheach, samplaí agus léachtaí closamhairc. Folaíonn sé freisin Gleim CIA Tástáil Prep, Léachtaí Fuaime (2017 eagrán), agus Scrúdaithe Cleachtaidh ™ agus saor in aisce Gleim Leabharmhála.
Praghas ar Chuid 1 nó 2 ach: $299
Praghas ar Chuid 3 ach: $339
Gleim Traidisiúnta CIA Review Líne (Lena n-áirítear Páirteanna 1, 2 agus 3)
Praghas: $799
Lena n-áirítear: cúrsa athbhreithnithe ar líne féin-staidéir Traidisiúnta Gleim ar (2016 eagrán) thagann le pleanálaí staidéar idirghníomhach, Léachtaí Fuaime (2017 eagrán) ceisteanna cleachtas, leabhair digiteach Gleim ina imlínte cuimsitheacha agus samplaí, agus do chomhairleoir pearsanta féin, all until you pass.
Praghas ar Chuid 1 nó 2 ach: $279
Praghas ar Chuid 3 ach: $319
Páirteanna Gleim CIA 1,2,3 (leabhair & tástáil Prep)
iomlán Praghas: $447
Lena n-áirítear: 18-month access to one of the most widely used question banks on the market. ceisteanna Scrúdaithe CIA scaoileadh ag The IIA agus leabhair (roghnach).
Praghas ar Chuid 1 – Buneolas Iniúchadh Inmheánach (leabhar & tástáil Prep) ach: $139
Praghas ar Chuid 2 – Cleachtais Iniúchta Inmheánaigh (leabhar & tástáil Prep) ach: $139
Praghas ar Chuid 3 –

Eilimintí Eolais Iniúchadh Inmheánach (leabhar & tástáil Prep)

ach: $169
Gleim CIA Review Course Info
| | |
| --- | --- |
| Gleim Athbhreithniú CIA | Strengths |
| 1. | Personal Counselors & Accessibility |
| 2. | Large Question Bank |
| 3. | 5% Off Cód Lascaine |
| 4. | Available in Spanish |
| 5. | Pass Guarantees |
Summary
Reviewer
Review Date
Reviewed Item
Author Rating