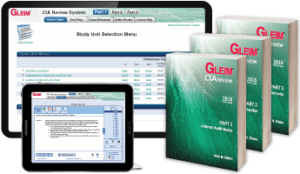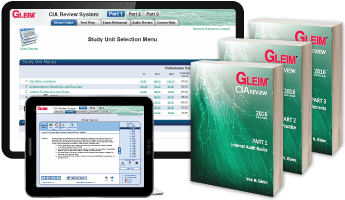 course Rating: ★★★★★
Gleim CIA Review is ien fan de meast populêre CIA review kursussen op 'e merk. Studinten hawwe priizge dizze wiidweidige sels-stúdzje fansels, which comes with an assigned personal counselor to help you through the entire CIA exam process.
The comprehensive study materials, an option to buy materials separately or as a package, performance tracking, and money back guarantee, all make this course a very attractive option.
pros
1. Personal Counselors & Accessibility
You won't need to pay for a tutor because your very own counselor is built into the course. Right from the start, your counselor will help you create a study plan based on your schedule, hjoeddeistige situaasje en eftergrûn. Whether you have questions about the CIA exam process or the study materials, dan kinne jo oan jo riedsman of de ekspert accounting personiel by Gleim. Kontakt se by telefoannûmer, email, of rieplachtsje de Q&In berjocht board foar antwurden nei algemien stelde fragen.
2. Large Question Bank
Gleim fan online test software befettet oer 3,000 meardere kar fragen. Studinten kinne gebrûk meitsje fan de grutte test bank te meitsjen oanpaste praktyk testen. Praktyk fragen op testen kinne wurde filtere troch nûmer en type, en kinne jo kieze om útslute fragen jo hawwe wurke op earder. Dat helpt kommen bestegings tiid op deselde fragen dy't jo ha al sei yn it foardiel fan de klam op dy jo hawwe net sjoen of moatte oefenje. Detaillearre taljochtingen foar sawol korrekt en ferkearde antwurden binne ek opnaam.
3. Performance Analysis
Gleim helpt jo identifisearje en rjochtsje op jo swak gebieten sa jo net besteegje mear tiid as nedich de tariedings foar dyn folgjende CIA eksamen. The software comes with detailed analytics that track your performance as you progress through the course. Struggling with a particular section? You can keep retaking the same questions until you master that type. The software tracks your most recent attempt, the average of your last 3 attempts, and your cumulative average. You can also follow your progress in the Performance Graphs section, which shows a snapshot of your performance so far.
4. Beskikber yn Spaansk
Studinten fan doel te nimmen it eksamen yn Spaanske sil lokkich te witte dat Gleim biedt syn stúdzje materialen yn it Spaansk as goed. Der is gjin needsaak om de praktyk fragen yn Spaansk yn dyn holle of wrakselje mei in taalbarriêre, as alles is oerset foar dy al! Jo sille wêze kinne om te sjen de praktyk fragen yn sawol it Ingelsk en Spaansk.
5. Kies Study of Exam Mode
Yn de Study Session mode, you can choose how many questions to include on your practice exam. This is useful if you don't have much time to study because you can fit in a quick session on your lunch break or before work. In study mode, your answers will be graded immediately and you'll get an explanation of why your answer was correct or incorrect.
When you start to feel more confident about a section, you can switch over to the Practice Exam mode, which simulates the actual exam environment. Just as on the real CIA exam, the answers will not be revealed until you have completed all of the questions.
6. Finale Exam Review
De Exam Rehearsal modus biedt de kâns om te rieden mei in automatisearre test dat is hast identyk oan it eigentlike CIA eksamen. It moat wurde nommen op syn minst ien wike foar jo echte eksamen datum, yn dyn lêste resinsje. It simulearret it feitlike eksamen omjouwing troch û.o. 100 meardere-kar fragen dy't moat wurde beäntwurde yn 3.5 oeren. Jo sille wêze kinne om te oefenjen jo tiid-behear feardichheden wylst testen josels op de ynhâld fan it eksamen.
7. pass Guarantees
As jo ​​binne net tefreden mei de Gleim CIA Review fansels kinne jo werom it foar in folsleine restitúsje (minder verzendkosten). Of jo kinne nimme foardiel fan harren Replacement Guarantee of de Fuortsette Access Guarantee. It leit foar de hân dat Gleim ynvestearret yn tefreden klanten dy't sil foarby de CIA eksamen op harren earste besykjen. Foar mear details en eligibility easken foar de ferskate garânsjes, please klik hjir.
8. koartings
Gleim currently offers Crush readers a 5% discount on all their CIA study materials. Be sure to take advantage of this discount if you go with Gleim!
CONS
1. Priis / No Savings on Most Packages
Unless you are planning to buy the Gleim Premium CIA Review System with all components ($849), buying the study materials for all three parts of the exam together in a bundle won't save you much (or anything) compared to buying the separate components of the program. With our additional discount, you'll save an extra $42 if you plan to buy the entire Premium CIA Review program with everything included, but students interested only in the online review course would do better to buy prep materials for one part of the exam at a time to see how well it fits their needs and prepares them.
ideal User
The Gleim CIA audio review is great for people who are constantly on-the-go. Each clip is approximately 30-minutes long and covers a different study unit. The audio is compatible with most portable music devices and smart phones, wêrtroch kandidaten te studearjen wylst op de sportskoalle, yn harren deistich commute oan it wurk, en oare minder tradisjonele stúdzje kear. Foar mear ynformaasje oer Gleim fan audio review course click here.
It programma fan fleksibiliteit kinne studinten om te keapjen stúdzje materialen foar krekt ien diel fan it eksamen op in tiid, of se kinne keapje de hiele kursus foar in lichte besparring. Self-motivearre learlingen sille dwaan bêste mei dit programma – ek al jo binne tawiisd in persoanlike riedsman te beäntwurdzjen fragen en helpe jo ûntwerpen in stúdzje plan, this is not a traditional assignment with live lectures, deadlines or peer interaction.
myn Suggestion
Gleim is the most comprehensive CIA online review course on the market and is a great fit for anyone who is serious about passing all 3 parts of the exam on the first try. The personal counselors assigned to each student are one of the biggest strengths of Gleim's program. Students who have taken Gleim's courses recommend the practice questions and report that the material prepared them well for the actual exam.
The fact that their course is backed by a Money Back Guarantee, a Replacement Guarantee, and an Online Access Guarantee demonstrates Gleim's commitment to their products and their desire for their clients to succeed on the CIA exam. Download one of Gleim's FREE Demos and check it out for yourself. This could be the most important decision you make in your journey to crush the CIA exam!
Gearfetting fan Course Features
Interactive Review Sections for Part 1, 2, en 3 fan 'e CIA eksamen
Large Test Question Bank (3,000+ questions)
Unbeheind Practice Eineksamens
Interactive Study Planer
persoanlike Counselor
Digital Books with Outlines, Examples, Audiovisual Lectures
Audio Review Lectures for Download/Streaming
Final Exam Rehearsal™
Pricing
Gleim Premium CIA Review System Package (omfettet Parts 1, 2 en 3)
Priis: $849
omfettet: Unlimited access until you pass to Gleim's Premium online self-study review course (2016 edition), unlimited practice exams, exam-emulating test bank and quizzes, personal counselor, interactive Study Planner, digital book with comprehensive outlines, examples and audiovisual lectures. Also includes Gleim CIA Test Prep, Audio Lectures (2017 edition), and Exam Rehearsal™ and free Gleim bookbag.
Price for Part 1 of 2 only: $299
Price for Part 3 only: $339
Gleim Traditional CIA Review Online (omfettet Parts 1, 2 en 3)
Priis: $799
omfettet: Gleim's Traditional online self-study review course (2016 edition) comes with an interactive study planner, Audio Lectures (2017 edition) praktyk fragen, Gleim digital books containing comprehensive outlines and examples, en dyn eigen persoanlike helpferliener, all until you pass.
Price for Part 1 of 2 only: $279
Price for Part 3 only: $319
Gleim CIA Parts 1,2,3 (Books & test Prep)
Totale priis: $447
omfettet: 18-month access to one of the most widely used question banks on the market. CIA Exam fragen útbrocht troch De IIA en boeken (fakultatyf).
Price for Part 1 – Ynterne Audit Basics (Boek & test Prep) only: $139
Price for Part 2 – Ynterne Audit Oefenjen (Boek & test Prep) only: $139
Price for Part 3 –

Ynterne Audit Kennis Elements (Boek & test Prep)

only: $169
Gleim CIA Review Course Info
| | |
| --- | --- |
| Gleim CIA Review | Strengths |
| 1. | Personal Counselors & Accessibility |
| 2. | Large Question Bank |
| 3. | 5% Off Koarting Code |
| 4. | Beskikber yn Spaansk |
| 5. | pass Guarantees |
Summary
Reviewer
Review Date
Reviewed Item
Author Rating